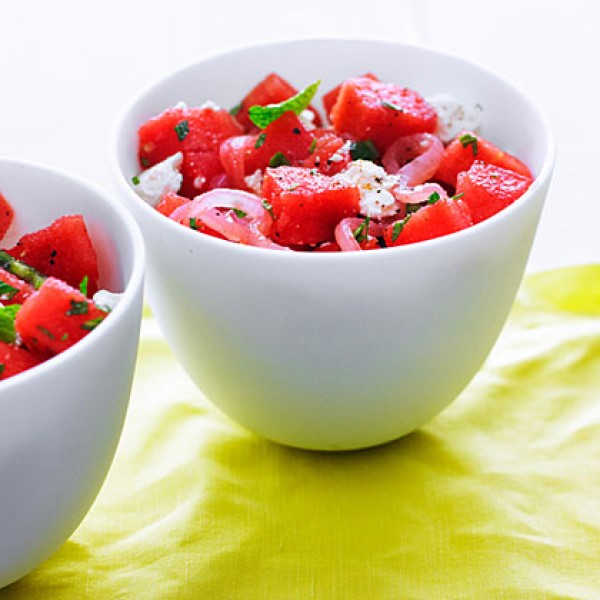 Recipe courtesy of La Familia and My Recipes.
3/4 cup red wine vinegar
1 white onion, sliced into thin rings
2 quarts (2 lbs.) cubed watermelon
1/4 cup lime juice
1 jalapeno chile, halved, seeded and sliced
1 tablespoon chopped fresh basil leaves
1 tablespoon chopped fresh mint leaves
1/2 teaspoon salt
1 teaspoon pepper
1/4 teaspoon cayenne, or chile powder
8 oz. feta or cotija, broken into chunks (optional)
Heat vinegar in a small saucepan over high heat until boiling.
Add onion and cook, turning as needed, until it's pink and most of vinegar is absorbed, about 5 minutes.
Spoon onion out of pan, let cool slightly, then roughly chop.
Mix remaining ingredients in a large bowl.
Add onion and toss just to combine.
This locally inspired recipe is brought to you by Pam Walker. Pam is an avid home cook, writer, and local farm and food activist who is also a board member of the Santa Fe Farmers' Market Institute. Thank you, Pam, for helping inspire us to use locally sourced ingredients!