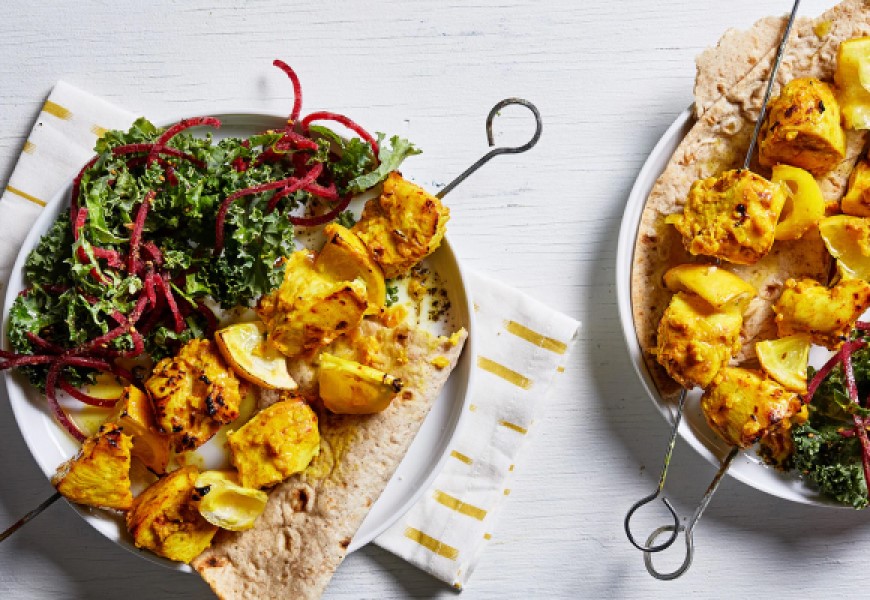 Image courtesy of The Washington Post.
Lotus Farms brings to market some of the best chicken I've ever had – great taste and texture. This simple Middle East-inspired recipe, adapted by Bonnie S. Benwick for The Washington Post from New Kitchen Basics, by Claire Thomson (HardieGrant/Quadrille, 2019), makes good use of great chicken. It also suggests a side of kale or chard or both, plentiful in the market now from many growers.
1/2 medium red onion
1 large clove garlic
1/4 cup Greek yogurt, preferably full fat
1 1/2 teaspoons ground turmeric
1/2 teaspoon ground cinnamon
Generous pinch ground cardamom (up to 1/2 teaspoon; see OVERVIEW)
Pinch crushed red pepper flakes
1/2 teaspoon kosher salt, plus more as needed
1 pound boneless, skinless chicken breast halves
1/2 to 1 whole lemon
Warm flatbread, for serving
Peel and coarsely chop the red onion and garlic. Place them both in a food processor, then add the yogurt, turmeric, cinnamon, cardamom, crushed red pepper flakes and salt. Pulse just until the onion is finely chopped, then transfer to a mixing bowl.
Cut the chicken into 1 1/2-inch chunks (discarding any visible fat), seasoning them lightly with more salt. Add the chicken to the yogurt mixture and stir to coat evenly; let sit for 20 minutes at room temperature. (During this time, you could soak bamboo skewers in a shallow pan of water if you don't have metal skewers.)
Meanwhile, cut the lemon (half or whole; to taste) into wedges approximately the same size as the chicken pieces. Position an oven rack 4 to 6 inches from the broiler element; preheat the broiler. Line a small rimmed baking sheet with aluminum foil.
Thread the coated chicken pieces and lemon wedges onto the skewers so the components are just touching each other. Place the skewers on the pan; broil for about 8 minutes, turning them once with tongs halfway through. The chicken and lemon should be lightly charred in spots.
Transfer to plates; pull the chicken and lemon off the skewers. Squeeze the broiled/lightly charred lemon wedges over the chicken while it's hot, and serve with flatbread.
The nutritional analysis is based on 3 servings.
Calories: 200
Total Fat: 5 g
Saturated Fat: 2 g
Cholesterol: 100 mg
Sodium: 460 mg
Carbohydrates: 5 g
Dietary Fiber: 1 g
Sugars: 2 g
Protein: 33 g
This locally inspired recipe is brought to you by Pam Walker. Pam is an avid home cook, writer, and local farm and food activist who is also a board member of the Santa Fe Farmers' Market Institute. Thank you, Pam, for helping inspire us to use locally sourced ingredients!