Lemony Kale and White Bean Soup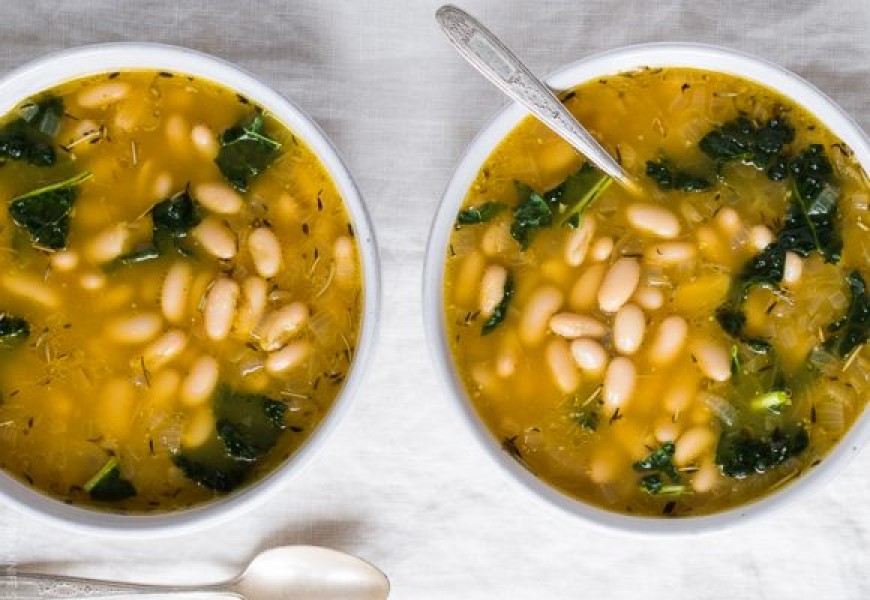 Image courtesy of Fork Knife Swoon.
Yesterday, in a blustery, biting wind, I went to La Montanita Co-op for a few things unavailable at the Farmers' Market. I asked the checker, "Do you think spring will ever come?" He answered, "I think it will come and go."
And so it does. Last night the high winds continued, the temperature dropped, and a little snow fell.
This weather calls for white bean soup and kale. I must say, though, that I love this soup, and, for that matter, any bean dish in any weather. You don't really need to follow a recipe for most bean concoctions, but here's one from an eye-catching website and blog called Fork Knife Swoon created by a cook, writer, and photographer named Laura, whose recipes focus on seasonal produce.
I keep a supply of dried beans from the Market – I only use canned beans in a pinch – and this past Saturday, I bought some beautiful Lacinato Kale (aka Tuscan Kale or Dinosaur Kale) – an heirloom variety grown by Malandro Farms. Using dried beans requires more stock and more time than canned, of course, and so, for most of the day, I'll enjoy the scents from this soup as it simmers slowly on my stove.
1 Tbsp olive oil
1 large yellow or sweet onion, minced
1/2 Tbsp fresh garlic, crushed
1 Tbsp unsalted butter
1/4 tsp dried rosemary
1/4 tsp dried thyme
1/8 tsp dried oregano
1 small lemon, juiced
4 cups (32 oz) rich chicken or vegetable stock
kosher salt and freshly-ground black pepper, to taste
2 (15 oz) cans cooked cannellini beans, drained (not rinsed)
1–1/2 cups (loosely-packed) kale (or sub. spinach or Swiss chard), removed from rough stems and torn into small pieces
Heat the olive oil in a heavy-bottomed stock pot over medium heat until shimmering. Add the onion, and cook, stirring occasionally, until soft and translucent and just beginning to brown. Add the garlic and cook for another minute or two.
Add the butter, and as it melts, stir in the herbs. Let cook for another minute or two until the onions are lightly golden.
Add the lemon juice followed by the stock and stir to combine. Cover, and bring the stock to a boil.
Turn the heat down to low, and let simmer uncovered for about 15 minutes. Season with salt and pepper, to taste.
Add the white beans and torn kale leaves, and continue to simmer until warmed through, about 3-5 minutes. If using a more delicate green, such as spinach, add right before serving.
Serve warm with crusty bread.
The kale Pam used in this recipe (called Lacinato, Tuscan, or Dinosaur Kale) is from 18th-century Italy. Its leaves are a dark blue-green to black with a heavily crinkled texture.
Kale is a member of the cabbage family, and its leafy greens are at their best eaten young, before the fibers become tough. Kale is extremely nutritious, providing many vitamins and minerals, including:
Vitamin A: promotes eye and bone health
Vitamin B6: maintains healthy metabolism and nervous system, promotes heart health, improves mood
Vitamin C: strengthens immune system, supports heart and skin health
Vitamin K: supports bone health and blood clotting
Potassium: reduce the risk of heart disease
Iron: increases energy, supports muscle and brain function
Fiber: lowers glucose levels in blood
Antioxidants: lower glucose levels, increase insulin sensitivity
This locally inspired recipe is brought to you by Pam Walker. Pam is an avid home cook, writer, and local farm and food activist who is also a board member of the Santa Fe Farmers' Market Institute. Thank you, Pam, for helping inspire us to use locally sourced ingredients!