Simple Supper of Asparagus and Flat Iron Steak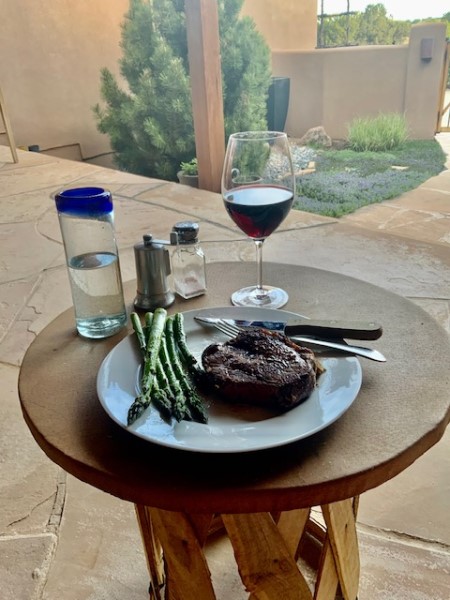 Asparagus is abundant and beautiful at the market these days, and flat iron steaks are almost always available from our beef vendors. I've been enjoying simple suppers of both, each prepared stovetop in a skillet.
I like thin asparagus, and I place a bunch in a skillet just large enough that the spears aren't crowded. I sprinkle a little salt over the spears, add just enough water to cover them, put a lid on the skillet, and turn the heat to high. Thin spears take maybe a minute. (Thicker ones will require a little longer.) As soon as the spears are cooked to the desired tenderness, I put them in a colander and run cold water over them for maybe thirty seconds to stop them from cooking further. Then I put them on a serving plate, drizzle a little olive oil over them and leave them be till I'm ready to eat. At that point, I squeeze lemon juice over them.
To prepare the flat iron steak, I rub both sides with salt and pepper or some rub that includes additional ingredients. I heat a cast iron skillet to medium high heat, add a little vegetable oil, and then cook the steak for about five minutes on each side. After I remove it from the skillet, I let it stand for five minutes.
This locally inspired recipe is brought to you by Pam Walker. Pam is an avid home cook, writer, and local farm and food activist who is also a board member of the Santa Fe Farmers' Market Institute. Thank you, Pam, for helping inspire us to use locally sourced ingredients!