Sausage With Peppers and Onions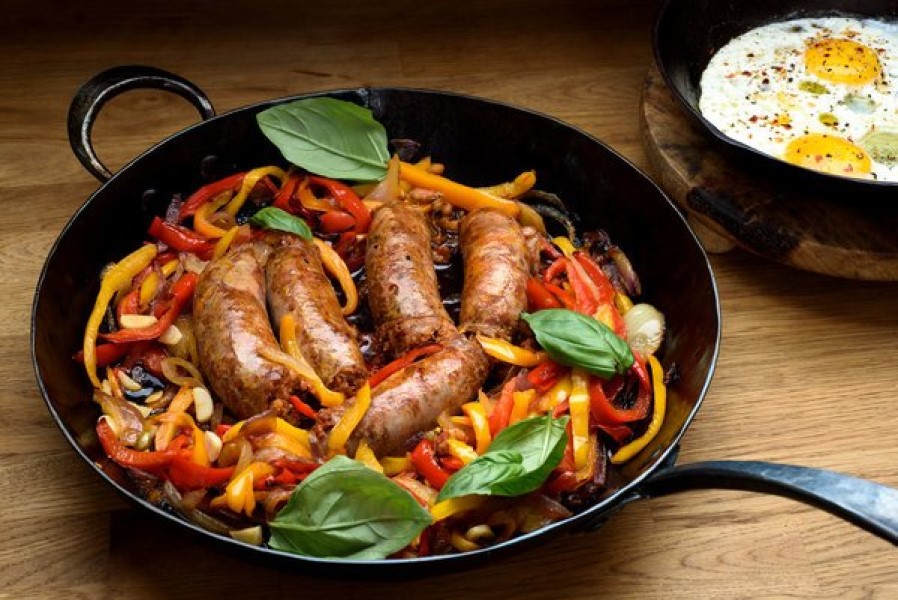 Image courtesy of The New York Times.
Now is a wonderful time at the Santa Fe Farmers' Market, with summer vegetables such as peppers, eggplants, tomatoes, corn, cucumbers, squash, onions, garlic and more still abundant, and fall vegetables and greens also abundantly coming in.
Bell peppers never fail to catch my eye. They're big and beautiful, and they come red and yellow and purple and green – as enticing to the eye as to taste buds. This recent recipe from David Tanis for The New York Times combines a sauté of peppers and onions with Italian sausages that's quick, beautiful, and delicious – a good choice for any meal of the day.
"For an easy, hearty dinner (or breakfast or lunch) buy fresh Italian pork fennel sausages, preferably from an Italian deli or butcher. Pair them with quickly stewed peppers and onions, splashed with vinegar, and fried eggs."
8 Italian pork fennel sausages, sweet or hot (about 2 pounds)
Extra-virgin olive oil
3 or 4 medium bell peppers, a mix of red and yellow, sliced into 1/4-inch strips
2 medium red onions, sliced into 1/4-inch half-moons
Salt and pepper
2 garlic cloves, minced
1 tablespoon red wine vinegar
Pinch of crushed red pepper
Pinch of dried oregano
Basil leaves, for garnish
4 large eggs (optional)
Prick each sausage in several places with a skewer or the tip of paring knife to prevent bursting. Put sausages in one layer in a skillet. Add water to cover and bring to a simmer. Cook for 5 minutes, then cover, turn off heat and let steep.
Place a wide skillet over high heat and add 2 tablespoons olive oil. When oil is hot, add sliced peppers and onions. Season generously with salt and pepper, and cook, stirring frequently, until softened and beginning to brown, about 10 minutes. Adjust heat as necessary if mixture seems to be cooking too quickly. Add garlic just at the end, stir to incorporate and cook 1 minute more. Stir in the vinegar.
Transfer pepper mixture to a platter. Over medium heat, coat pan with 1 tablespoon olive oil, add sausages and cook 2 to 3 minutes per side, to brown. Top pepper mixture with cooked sausages. Sprinkle with crushed red pepper and oregano and garnish with basil leaves.
If desired, in the same wide skillet, fry eggs sunny side up in a little olive oil to accompany. Season with salt and pepper.
This locally inspired recipe is brought to you by Pam Walker. Pam is an avid home cook, writer, and local farm and food activist who is also a board member of the Santa Fe Farmers' Market Institute. Thank you, Pam, for helping inspire us to use locally sourced ingredients!