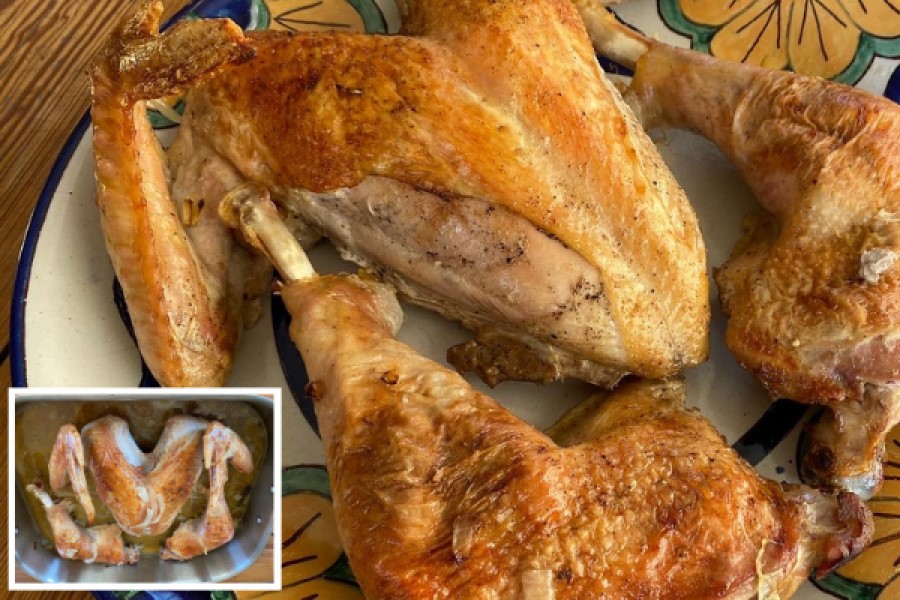 I didn't roast the turkey I bought from Lotus Farms for Thanksgiving but instead froze it until recently. Not wanting a whole, roasted bird for the beauty of it for guests or myself, I decided to cut it up and roast it in parts. I used Sam Sifton's "Fastest Roast Turkey" recipe from The New York Times. This method was, of course, easier and faster than roasting a whole bird, and I served it on a talavera platter and found it beautiful, not to mention delicious.
Yield: 12 or more servings
1 12- to 18-pound turkey, thawed, with giblets and neck removed
1 medium onion, peeled and quartered
2 stalks celery, cleaned and roughly chopped
Fresh herbs to taste – thyme, sage, and rosemary all work well (optional)
3 tablespoons kosher salt
1 ½ tablespoons freshly ground black pepper
6 tablespoons unsalted butter, softened and cut into small pats
Preheat oven to 450 degrees. Place the turkey on a cutting board with its breast side down, and using a very sharp knife or cleaver, cut out the bird's backbone.
Turn the turkey over and use your knife or cleaver to remove the legs and thighs. Press down on the turkey breasts to flatten the carcass.
Place the turkey parts in one large roasting pan. Tuck between them onion, celery pieces, and, if using, herbs, and shower with salt and pepper. Dot turkey pieces with pats of butter.
Place pan in a 450 degree oven for 30 minutes, then reduce heat to 325 degrees and baste with accumulated juices.
Start to check the temperature of the breast and the thigh meat roughly 15 minutes later, and remove them from the oven when they have reached 165 degrees. As with a whole bird, you should tent the meat with foil and allow it to rest for at least 30 minutes.
This locally inspired recipe is brought to you by Pam Walker. Pam is an avid home cook, writer, and local farm and food activist who is also a board member of the Santa Fe Farmers' Market Institute. Thank you, Pam, for helping inspire us to use locally sourced ingredients!