Meatballs in Tomato and Chipotle Sauce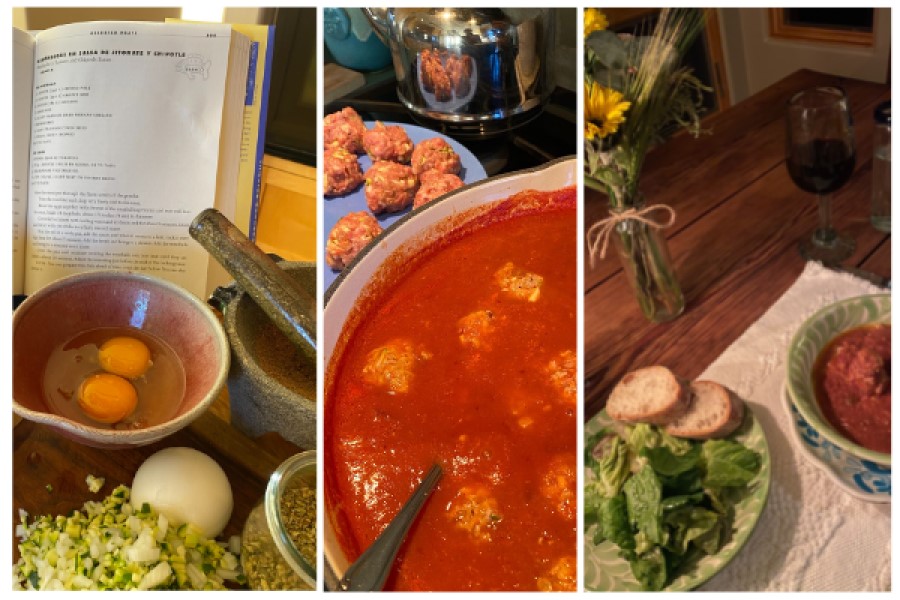 A friend in Houston, my hometown, recently posted a photo of albóndigas (also known as Mexican meatballs) that she was making from a family recipe. They looked so good, so right for a winter meal that I wanted to make some myself. I turned to The Essential Cuisines of Mexico, one of my favorite Diana Kennedy cookbooks, and found this recipe.
I used ground pork from Lotus Farms and ground beef from Lazy BG Farms and followed Kennedy's recipe. Instead of fresh tomatoes, since they're not locally in season just now, I used canned whole tomatoes. Like my friend, I served the meatballs and sauce in a shallow bowl on top of long-grain white rice, creating a stew-like, not a soupy, consistency. Corn tortillas would make a great accompaniment, but I had a yen for Cloud Cliff's sourdough native baguette, and slices of it were perfect for sopping up the sauce.
12 ounces ground pork
12 ounces ground beef
6 ounces zucchini
2 large eggs
¼ scant teaspoon dried Mexican oregano
8 peppercorns
¼ scant teaspoon cumin seeds
1/3 onion, finely chopped
Salt to taste
2 pounds tomatoes
3 to 4 chipotle chiles en adobo, or to taste
3 tablespoons vegetable oil
¾ cup light meat or chicken broth
Salt to taste
Mix the pork and beef together. Trim the zucchini and chop very finely. Add to the meat.
Blend the eggs together with the rest of the meatball ingredients and mix well into the meat. Make 24 meatballs, about 1 ½ inches in diameter.
If using fresh tomatoes, cover them with boiling water and let them cook for about 5 minutes. Drain and blend with the chiles to a fairly smooth sauce. Since I used canned whole tomatoes, I simply blended them with the chiles in a blender.
Heat the oil in a wide pan, add the sauce, and when it comes to a boil, cook it over high heat for about 5 minutes. Add the broth and bring to a simmer. Add the meatballs and bring to a simmer once more.
Cover the pan and continue cooking the meatballs over low heat until they are done – about 50 minutes. Adjust the seasoning just before the end of the cooking time.
You can prepare this dish ahead of time, even the day before. You can also freeze it.
This locally inspired recipe is brought to you by Pam Walker. Pam is an avid home cook, writer, and local farm and food activist who is also a board member of the Santa Fe Farmers' Market Institute. Thank you, Pam, for helping inspire us to use locally sourced ingredients!