Roasted Carrot Salad With Arugula and Pomegranate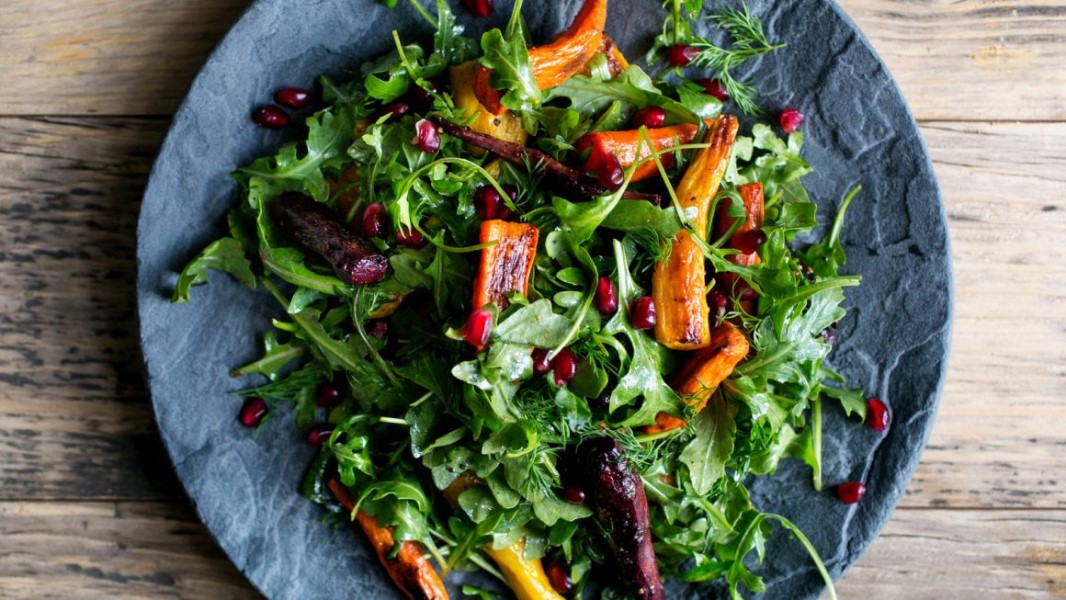 Image from Andrew Scrivani for The New York Times.
What a wonderful surprise at this past Saturday's market to find gorgeous pomegranates from La Granada Farm, located southwest of Truth or Consequences. I bought a number of them, some for myself and some to give to friends.
This Melissa Clark recipe is only one of many ways to enjoy not only pomegranate seeds but also carrots, arugula, dill, garlic, and fennel, which are plentiful from various vendors at the market these days. Instead of pomegranate molasses, which Clark calls for, I recommend substituting chokecherry syrup from Eve's Farm, which, in limited supply has recently been available at the market.
1 lb carrots, peeled and cut into 2-inch lengths (halve them if carrots are large)
1/4 teaspoon kosher salt, more to taste
1/8 teaspoon ground black pepper, more to taste
1/4 cup plus 2 tablespoons extra-virgin olive oil, more as needed
1/2 teaspoon ground cumin
1 tablespoon pomegranate molasses OR chokecherry syrup
1/2 tablespoon fresh lemon juice, more to taste
1 garlic clove, finely grated or minced
1/2 teaspoon Dijon mustard
3 ounces baby arugula (about 3 cups)
1 fennel bulb, thinly sliced
1/4 cup fresh dill fronds or mint leaves
Pomegranate seeds, as needed
Yogurt, for serving (optional)
Toasted walnuts or crumbled pita chips, for serving (optional)
Heat oven to 425 degrees. Toss carrots with salt, pepper and 2 tablespoons oil on a rimmed baking sheet, and bake until edges are caramelized and carrots are tender, 28 to 33 minutes. Remove from oven and immediately toss with cumin. Let cool for a few minutes while you make the dressing. Carrots should be slightly warm but not hot when tossed with the greens.
In a large bowl, whisk together pomegranate molasses, lemon juice, garlic, mustard and large pinch of salt and pepper. Taste and adjust lemon juice and seasonings if necessary. Whisk in remaining 1/4 cup oil until emulsified.
Stir carrots into dressing, then gently toss with arugula, fennel, and dill or mint. Serve immediately, drizzled with more olive oil and topped with pomegranate seeds, and yogurt and nuts or pita chips if using.
This locally inspired recipe is brought to you by Pam Walker. Pam is an avid home cook, writer, and local farm and food activist who is also a board member of the Santa Fe Farmers' Market Institute. Thank you, Pam, for helping inspire us to use locally sourced ingredients!