Braised Collard Greens From Feges BBQ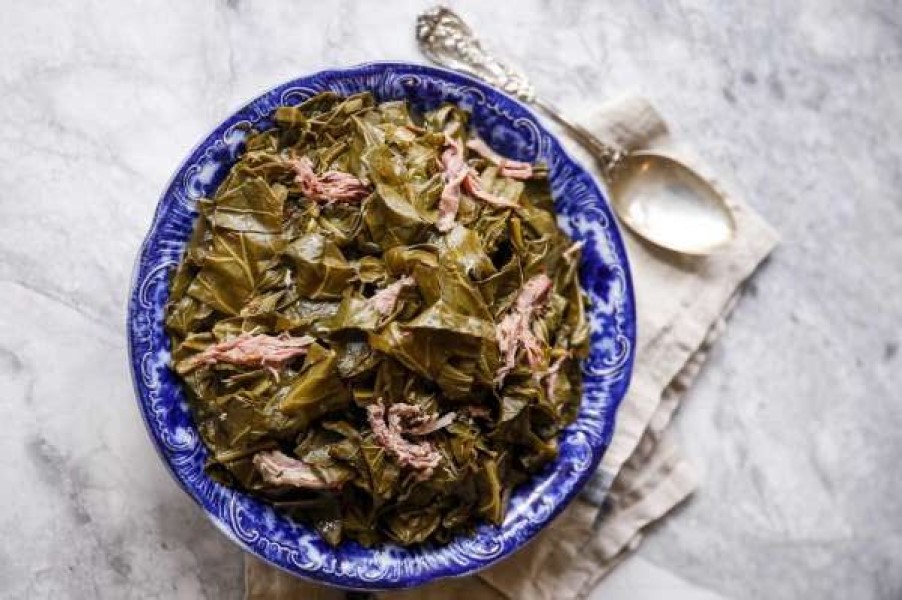 Image from Michael Ciaglo for Houston Chronicle.
Holidays make us think of home and the food we grew up with. I'm from Texas, and as Thanksgiving approaches, I'm thinking of southern food, comfort food, food that I still enjoy and cook myself. One of these foods is collards, which are often available at the market from Green Tractor Farm and from Malandro Farm.
This recipe comes from a Thanksgiving assortment that just appeared in the Houston Chronicle, curated by Greg Morago, the newspaper's food editor. Not only are the collard greens available at the market, but so are bacon, garlic, yellow onions, chicken (for stock), cider vinegar, hot sauce, red chile, and brisket or smoked sausage.
5 bunches collard greens, washed, stems removed and chopped
1 tablespoon bacon grease
1-2 cloves garlic, minced
1/2 yellow onion, chopped
2 quarts chicken stock
1/2 cup apple cider vinegar
1/2 cup Worcestershire sauce
2 teaspoons hot sauce
1/2 teaspoon crushed red pepper
1 tablespoon salt
1 teaspoon black pepper
1/4 cup brown sugar
1/2 cup chopped brisket or other smoked meat
Melt bacon grease in a large pot. Sweat onion for 2 minutes over medium heat and add garlic. Stir for 10 seconds.
Increase heat to medium-high and add stock, vinegar, Worcestershire, hot sauce, red pepper, salt, black pepper and brown sugar. Simmer for 5 minutes.
Add greens and reduce the heat to medium and simmer, uncovered, for about an hour.
Before serving, stir in chopped brisket (or other smoked meat, such as sausage, ham, bacon, or pulled pork).
This locally inspired recipe is brought to you by Pam Walker. Pam is an avid home cook, writer, and local farm and food activist who is also a board member of the Santa Fe Farmers' Market Institute. Thank you, Pam, for helping inspire us to use locally sourced ingredients!