Pinto Beans and Summer Squash With Fried Green Tomatoes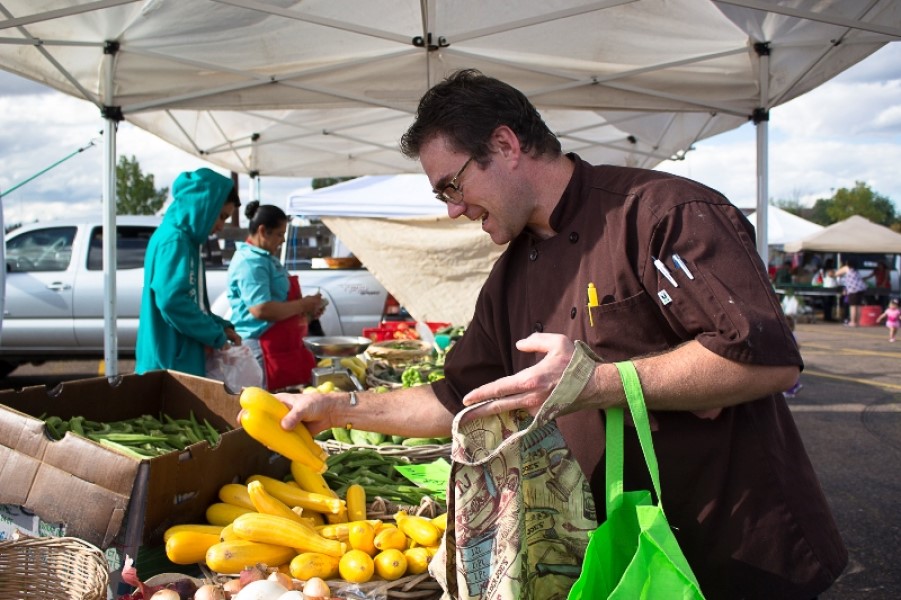 In early August Chef David Sundberg from Blue Corn Cafe taught us how to make a delicious dish using ingredients from the Southside Farmers' Market, open on Tuesdays from 3 – 6 PM. This recipe is so versatile and good because it can be made as a side dish or cooked with tortillas and cheese to serve as a main course. Use seasonal ingredients from your local farmers market!
Chef David Sunberg del Blue Corn Cafe nos enseño cómo hacer un plato delicioso usando ingredientes del Southside Farmers' Market. Esta receta es buena porque puede hacerla como un acompañamiento, o cocinar con tortilla y queso para servir como el plato principal. Usa ingredientes de temporada de su marketa agrícola local.
Pinto Beans & Summer Squash with Fried Green Tomatoes
Guisado de frijol bayo con calabacitas y tomatillos fritos
Ingredients / Ingredientes
1/2 pound beans / libra de frijoles
4 cloves garlic / dientes ajo
salt / sal
1 onion / cebolla
2-3 summer squash / calabacines
any other vegetables you like / cualquier otra verdura que te guste
2 tablespoon oil / cucharadas aceite
oregeno (fresh or dried) / orégano (fresco o seco)
mint (fresh or dried) / menta (fresca o seca)
peppers / pimiento (verde rojo o el que te guste más)
green tomatoes (cherry or larger) / tomatillos (pequeños o un poco más grandes)
flour / harina
2 eggs / 2 huevos
cornmeal / harina de maíz
Chile Caribe
cheese (optional) / queso (opcional)
tortillas (optional / opcionales)
PREPARATION / Preparación
Cook ½ pound of beans with 4 cloves sliced garlic until tender with a thick gravy. Add enough salt to taste. May be cooked in advance. / Pon a cocer ½ libra de frijoles con 4 dientes de ajo en rebanadas hasta que estén tiernos y el caldito de los frijoles haya espesado un poco. Ponle sal al gusto.
Dice onion and Summer squash and any other vegetables you like. / Corta en cuartos cebolla mediana y calabacines y cualquier otra verdura que quieras echarle al guiso.
Heat oil in a large pan or pot and sauté the onions until tender. Add the rest of the vegetables and cook quickly until just tender. Add the beans along with oregano and mint and salt & pepper to taste. Bring to a simmer and cook the tomatoes. / Calienta aceite en una sartén u olla grande y saltea la cebolla hasta que se vea transparente. Agrega el resto de las verduras y cocina hasta que estén tiernos. Agrégale los frijoles junto con el orégano y menta y la sal y pimienta al gusto. Ponlo a fuego lento y cocina los tomates.
For the tomatoes, cut green cherry tomatoes in half or larger tomatoes in 1/4″ thick slices. Prepare three bowls – one with plain flour (can use substitute for gluten-free), one with two eggs whipped with a little water, and one with cornmeal, salt, pepper, and chile Caribe. / Corta los tomatillos pequeños en mitades o si son más grandes en cuartos. Prepara tres boles -. Uno con harina de trigo (se puede usar algún sustituto de gluten), otra con dos huevos batidos con un poco de agua y el tercero con harina de maíz, sal, pimienta y Chile Caribe.
Dust the tomatoes with flour, then dip them in the egg and, finally, coat them well with the cornmeal mixture. Heat an inch of oil in a deep pan and fry the tomatoes until golden brown, being careful not to crowd the pan. / Pasa los tomates por el bol de harina, luego pásalos por el huevo y, por último cúbrelos bien con la mezcla de harina de maíz. Calienta una pulgada de aceite en una sartén honda y fríe los tomates enharinados hasta que estén doraditos, teniendo cuidado de no poner demasiados en la sartén.
Drain them on paper towels then serve over the bean and squash mixture with cheese and tortillas if you'd like! / Escúrreles el aceite y pásalos por una toalla de papel para quitarles el exceso de aceite y sirve sobre la mezcla de frijoles y calabacines con queso y tortillas, buenísimo!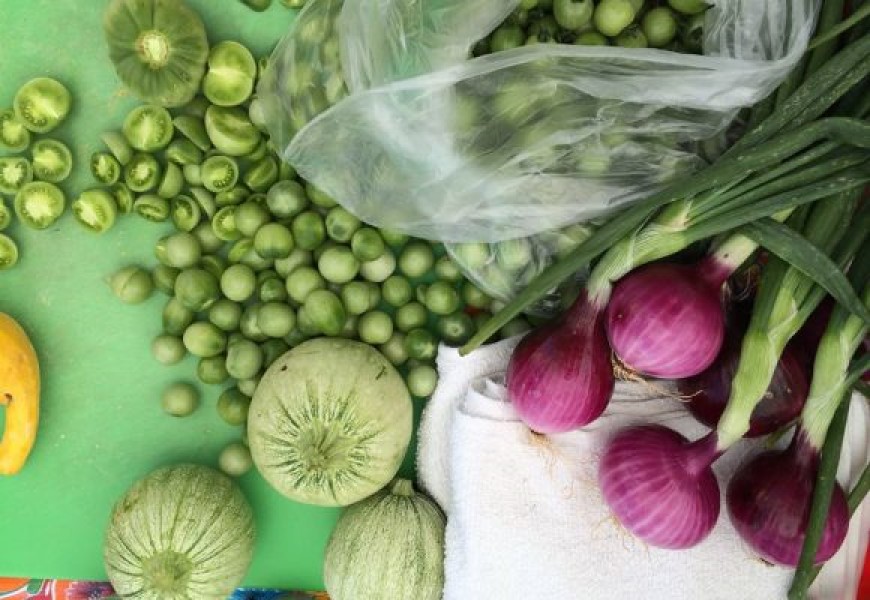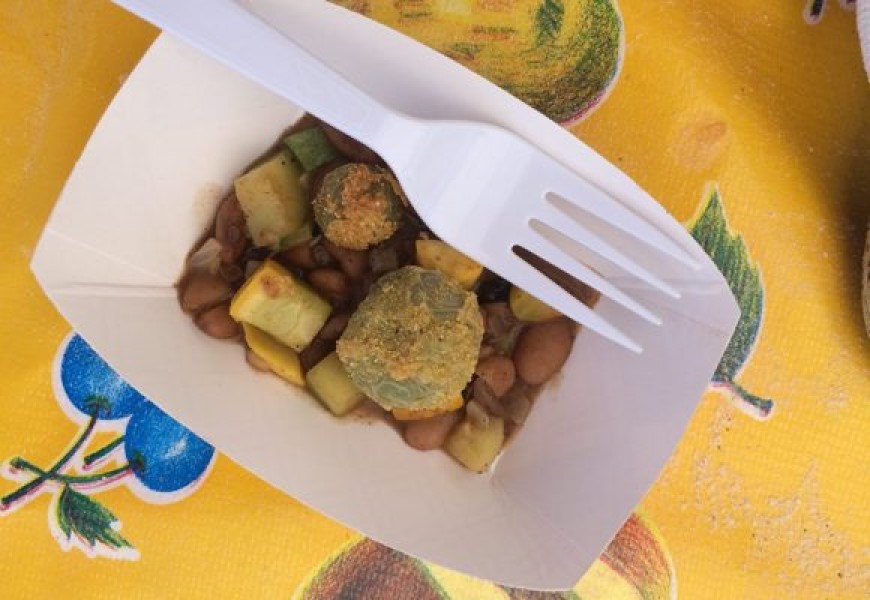 This locally inspired recipe is brought to you by Pam Walker. Pam is an avid home cook, writer, and local farm and food activist who is also a board member of the Santa Fe Farmers' Market Institute. Thank you, Pam, for helping inspire us to use locally sourced ingredients!