Penne With Tomatoes, Basil, and Garlic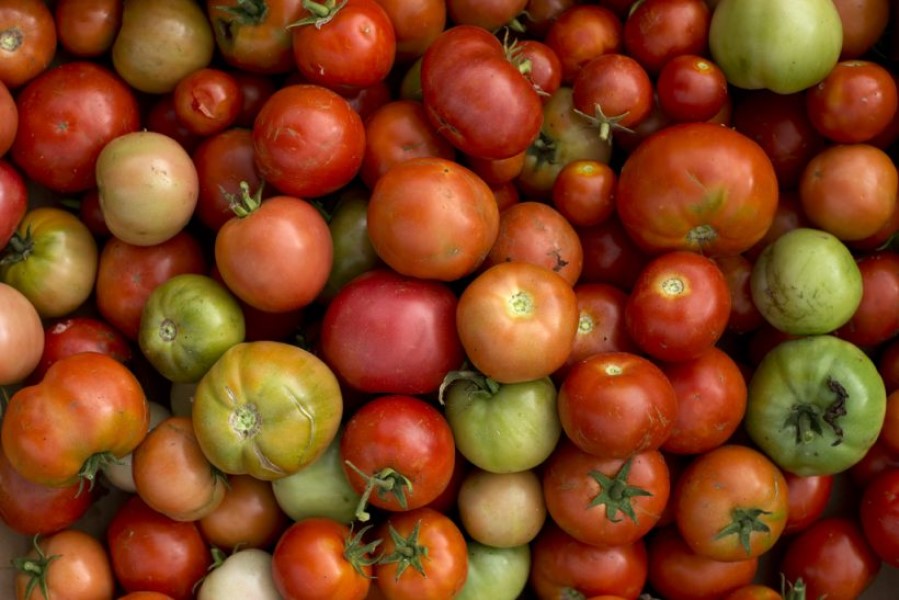 Who doesn't love getting hold of some of the first tomatoes of the season?
Thanks to Malandro Farm, I've been enjoying tomatoes for the past two weeks. This past Saturday, I made a delicious BLT with Malandro tomatoes, mixed lettuces from Mr. G's Organic Produce, and toasted slices of nativo bread from Cloud Cliff Bakery. Outstanding!
With Malandro tomatoes, I've also been enjoying a favorite raw tomato sauce with basil and garlic, which I eat with penne rigate or ziti. I think I discovered this recipe in Pierre Franey's 60-Minute Gourmet column in the New York Times back in the 1980s, and it's been a summer staple ever since. Green Tractor Farm has been bringing basil to the market, and garlic is coming on strong from the Crawfords' El Bosque Farm, among others.
I like to combine the tomatoes, garlic, olive oil, black pepper, red pepper flakes, salt, and basil several hours ahead of cooking the pasta, giving the sauce a stir or two now and then, and finally combining it with penne as soon as I've boiled it to the point of al dente and drained it. But the recipe below from Moira Hodgson for The New York Times is even simpler.
1 pound penne
2 tablespoons extra-virgin olive oil
3 to 4 ripe tomatoes, seeded and chopped
½ cup basil leaves, coarsely chopped
1 clove garlic, green part removed, minced
Coarse salt and freshly ground pepper to taste
Cook the penne in boiling salted water and drain when al dente.
Pour the oil into a large serving bowl and add the penne. Toss and add the tomatoes, basil and garlic. Season to taste with salt and pepper and serve.
This does not need cheese, but some people like it with freshly grated Parmesan.
This locally inspired recipe is brought to you by Pam Walker. Pam is an avid home cook, writer, and local farm and food activist who is also a board member of the Santa Fe Farmers' Market Institute. Thank you, Pam, for helping inspire us to use locally sourced ingredients!