Leek and Spring Onion Gratin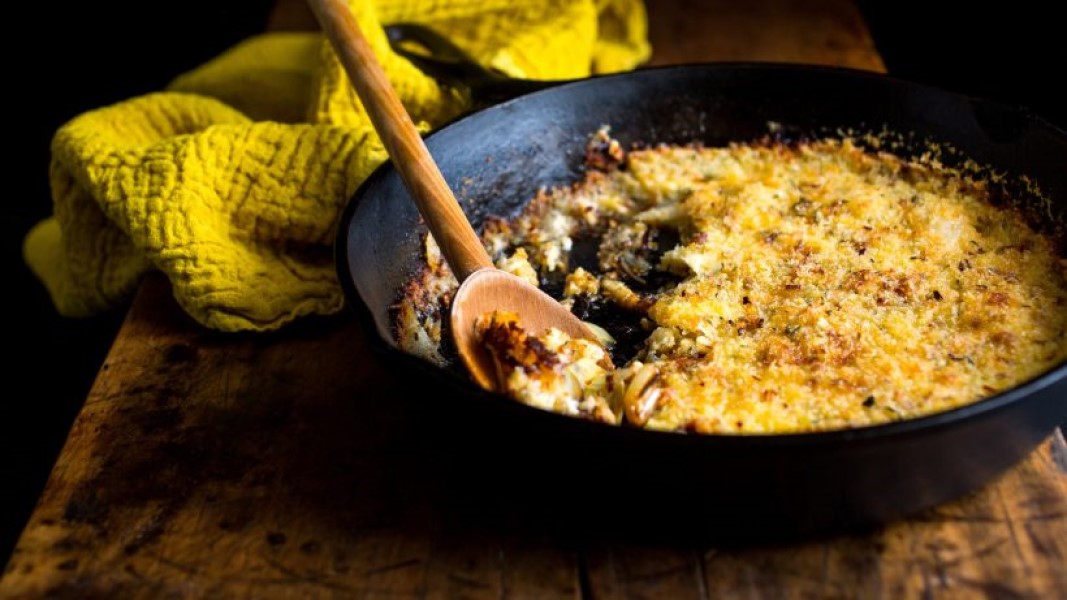 Image courtesy of The New York Times.
There are lots of beautiful spring onions at the Market these days. One of my favorite ways to eat them is to dry roast them slowly in a cast iron skillet and put them between a hot corn tortilla for a quick, tasty lunch. But when I'm feeling more ambitious, I might include them in a savory tart or a gratin along the lines of this recent Melissa Clark recipe from The New York Times. It includes leeks, green garlic or garlic cloves, and scallions, also plentiful at the market now. I love this gratin for being rich, creamy, and buttery, and for being simple and quick to make.
3 scallions, thinly sliced
2 stalks green garlic or 2 garlic cloves, thinly sliced
½ teaspoon fine sea salt, more as needed
¼ teaspoon black pepper
3 leeks, white and light green parts only, halved lengthwise and cut into 1-inch pieces crosswise
2 spring onions, cut into 1-inch wedges
3 tablespoons butter, cut into cubes
5 anchovies, minced
⅓ cup grated Parmesan cheese
⅔ cup panko bread crumbs
1 teaspoon thyme leaves, finely chopped
1 teaspoon finely grated lemon zest
Pinch of red pepper flakes
1 tablespoon extra-virgin olive oil, plus more for drizzling
4 ounces Gruyère, coarsely grated
1 cup heavy cream
Place a rack in the top third of oven and heat to 400 degrees. In a medium bowl, toss scallions, green garlic, salt and pepper.
Heat a 12-inch cast-iron skillet over medium heat. Arrange the leeks cut-side down in the skillet, then scatter spring onions in the gaps. Sprinkle a little more salt on top, then spread scallion mixture in an even layer in pan. Pour in 1/4 cup water and top with butter.
Cover and and simmer on low heat until vegetables are soft, 20 to 25 minutes.
Uncover the pan, turn heat to medium-high and cook until liquid is evaporated and edges are starting to brown and sizzle, 5 to 10 minutes longer.
Meanwhile, in a small bowl, rub together anchovies, Parmesan, panko, thyme, lemon zest and red pepper flakes. Drizzle in oil and toss to combine.
Sprinkle Gruyère evenly into skillet over leeks, pour in cream, then top with the bread crumb mixture. Drizzle with a little more oil. Transfer to oven and bake until golden and bubbly, 15 to 20 minutes. Cool slightly, then serve warm.
This locally inspired recipe is brought to you by Pam Walker. Pam is an avid home cook, writer, and local farm and food activist who is also a board member of the Santa Fe Farmers' Market Institute. Thank you, Pam, for helping inspire us to use locally sourced ingredients!