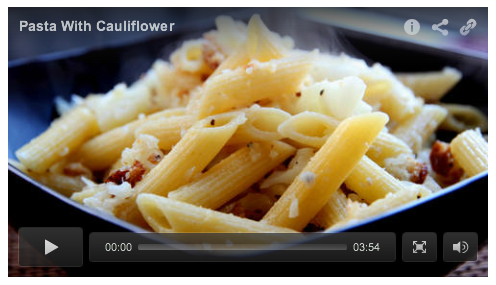 By Pamela Walker, writer and local farm and food activist (www.GrowingGoodThingsToEat.com)
Mark Bittman's minimalist recipes have appealed to me for many years. With great cauliflower appearing in the market these days, I decided to combine cauliflower florets with pasta. Bittman adapted this recipe initially from Marcella Hazan, and later modified his own minimalist version with this even simpler approach.
(Watch the video here.)
1 head cauliflower, about 1 pound
Salt and black pepper
1 tablespoon minced garlic
¼ cup olive oil
1 pound penne, fusilli or other cut pasta
1 cup coarse bread crumbs
Bring a large pot of water to a boil. Trim the cauliflower and divide it into florets. Add about a tablespoon of salt to the water and boil cauliflower until it is tender but not mushy. Using a slotted spoon or strainer, remove the cauliflower and set it aside. When it is cool enough to handle, chop it roughly into small pieces.
Meanwhile, in a large deep skillet over medium-low heat, sauté garlic in olive oil, stirring occasionally, until garlic is golden. Start cooking pasta in same pot and same water as was used for the cauliflower.
When the garlic is ready, add the cauliflower to skillet and turn heat to medium. Cook, stirring occasionally. When pasta is just about done – it should be 2 or 3 minutes short of the way you like it – drain it, reserving about a cup of cooking liquid.
Add pasta to skillet containing the cauliflower, and toss with a large spoon until they are well combined. Add salt and pepper to taste, along with just enough pasta water to keep the mixture moist but not soupy. When the mixture is hot and the pasta is tender and nicely glazed, mix in the bread crumbs.
This locally inspired recipe is brought to you by Pam Walker. Pam is an avid home cook, writer, and local farm and food activist who is also a board member of the Santa Fe Farmers' Market Institute. Thank you, Pam, for helping inspire us to use locally sourced ingredients!