New Mexico Pecan and Chocolate Torte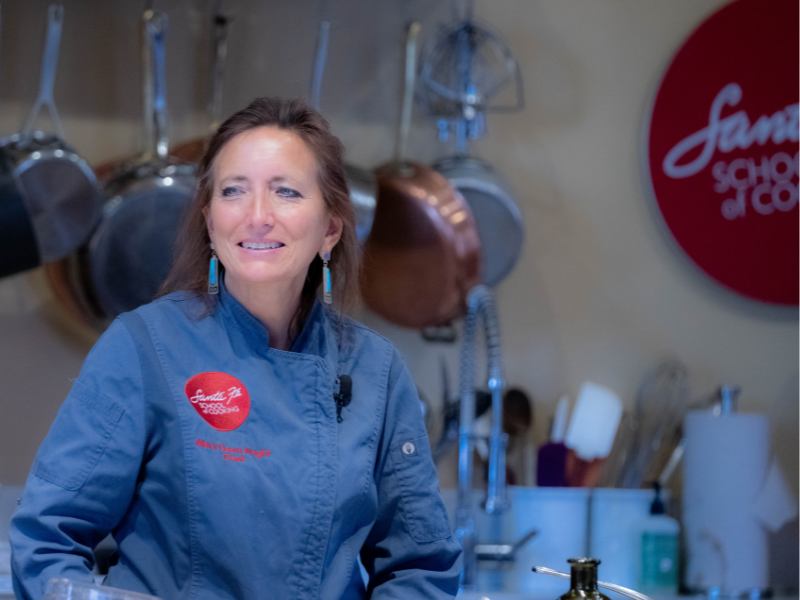 Recipe contributed by MaryDawn Wright, Santa Fe School of Cooking
Santa Fe Farmers' Market Institute's Spring Patron Lunch (June 2023)
For the torte:
1 cup

Pecans (Generously contributed by Tami Cavitt,

CLC Pecans LLC

5 ounces*

Semisweet Chocolate

10 Tablespoons

Unsalted butter

1 cup

Sugar

4

Eggs

1/3 cup

Unseasoned breadcrumbs
For the glaze:
3 ounces

Unsweetened chocolate

3 ounces

Semisweet chocolate

1/3 cup

Unsalted Butter
Preheat the oven to 375 degrees.  Butter a 9-inch springform pan.  Place parchment on the bottom of the pan for best release.
Making the torte
Melt chocolate over very low heat. Set aside.

Place nuts in a food processor and process until finely chopped. Remove and place in a mixing bowl with the breadcrumbs.

Mix butter and sugar together in a food processor until well blended. 

Add eggs, one at a time, and mix until just blended. Scrape the sides of the processor bowl as needed.

Add melted chocolate.  Mix briefly. 

Pour mixture into a mixing bowl with nuts and breadcrumbs. Mix well. Pour into the prepared pan.

Bake in preheated oven for 25-30 minutes, or until the center is slightly firm to the touch.
Cool to room temperature on a cooling rack.  Remove cooled cake from pan and place on the cooling rack over a tray. 
Making the glaze
Melt chocolates and butter together over very low heat.  Set aside to cool 2-3 minutes, so the glaze will thicken slightly. 

Pour glaze over cake (on the wire cooling rack) spreading with a spatula to cover evenly. Set aside to allow glaze to thicken.

Serve at room temperature.
*Five ounces is about ½ cup plus 2 tablespoons