Hakka-Style Stir-Fried Cabbage and Egg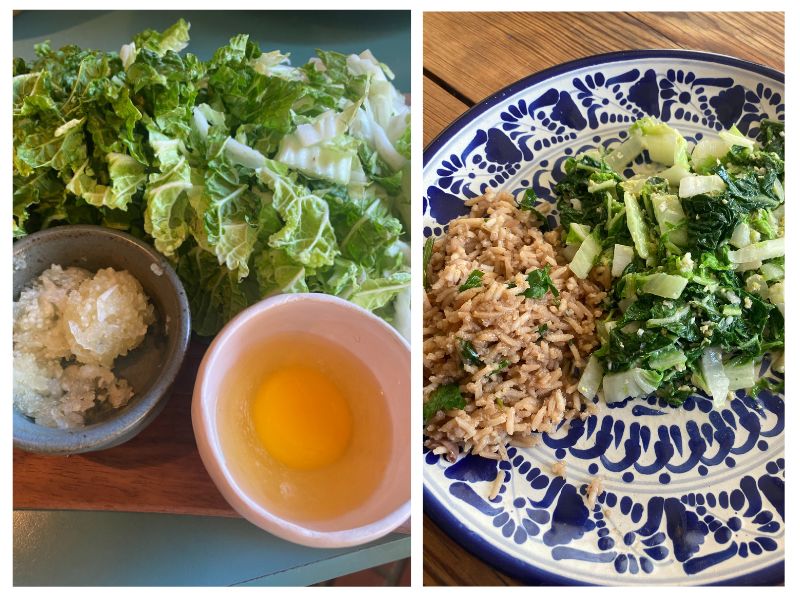 Evelyn's Farm is bringing beautiful Napa cabbages to the market these days. They are perfect for this simple, tasty stir-fry from Grace Young's cookbook Stir-Frying to the Sky's Edge. (I love the title and the book.)
I ate my stir-fried with rice, as Young suggests. I also followed her guidance not to overcook the cabbage and to crack the egg in a bowl ahead of time, to avoid pausing the stirring and instead to continue with fluid stirring. I used garlic from El Bosque Farm, fresh from one of this summer's harvests, and the egg came from CruzRanch. Nothing as fresh or nutritious as a totally, locally grown meal!
Serves 4 as a vegetable side dish
1 small head Napa cabbage (about 1 pound)

2 tablespoons peanut or vegetable oil
2 tablespoons chopped garlic
¼ teaspoon salt
1/8 teaspoon ground white pepper
1

large egg
Quarter the cabbage lengthwise, cutting out and discarding the hard core from each quarter. Then cut crosswise into ½-inch-wide pieces to make about 8 cups.

Heat a 14-inch flat-bottomed wok or 12-inch skillet over high heat until a bead of water vaporizes within 1 to 2 seconds of contact. Swirl in the oil, add the garlic, and stir-fry 20 seconds or until the garlic is fragrant and just begins to brown. Add the cabbage and stir-fry 1 to 2 minutes or until the leaves just begin to wilt. Cover and cook on high head 30 seconds or until the leaves have just wilted. Uncover, sprinkle on the sale and pepper, and stir-fry 30 seconds or until well combined. Crack the egg into the center of the vegetables and stir-fry about 30 seconds or until the egg is just cooked and flecked throughout the mixture and the cabbage is crisp tender. Do not overcook.
This locally inspired recipe is brought to you by Pam Walker. Pam is an avid home cook, writer, and local farm and food activist who is also a board member of the Santa Fe Farmers' Market Institute. Thank you, Pam, for helping inspire us to use locally sourced ingredients!