2015 Farmer All-Star: Dave and Loretta Fresquez of Monte Vista Organics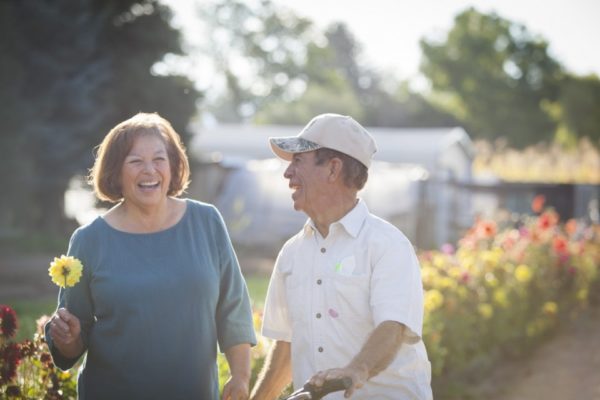 You know you're at the Monte Vista Organics' booth when you're greeted by smiling faces, kind words, and bins full of bright red, orange, and pink tomatoes. They also wow customers with a diverse array of organic goods, such as raspberries, grapes, fava beans, and GMO free corn!
David and Loretta both grew up in Espanola. Their large families may not have been farmers, but they did grow food out of necessity. When they married, David and Loretta started their own garden, growing sweet corn and tomatoes. After that first year they decided to share their bounty by selling at local markets.
David and Loretta left their jobs in Los Alamos, and by 1995 they were farming full time and selling at the Santa Fe Farmers' Market twice a week. They now also sell to restaurants such as Restaurant Martin and Joe's Diner. Make sure to try the margarita pizzas at Joes' Dining and Pizza Etc. which feature David's tomatoes!
In 2001, they expanded their operation with the purchase of land in Taos County where they grow winter crops, like potatoes, garlic, and squash. David and Loretta have managed to turn their favorite hobby into a lifetime career. David even finds weeding relaxing – like a walking meditation.
David is an innovative farmer and a tomato connoisseur. He creates new tomato varieties, raises chickens, tends to bee hives, and saves his own seeds. He built his home and farm, transplanted Blue Spruce as a wind barrier, and hauled rock for walls. He carved morning glories into a gate, accidentally tricking the local hummingbirds into trying to feed off of it!
He has a large greenhouse and recently installed solar panels from Positive Energy Solar. They've fine-tuned their operation so much that Dave has hosted Institute workshops on composting.
They love selling at the Market because of the wonderful people they've met from all over the world. To David and Loretta, their finished product — fresh, delicious food — is the best part of the job.
The Institute thanks David and Loretta for their innovative farming techniques, continued friendly presence at the Market, and passion for family farming.