Mashed Potatoes and Turnips With Sautéed Onions and Greens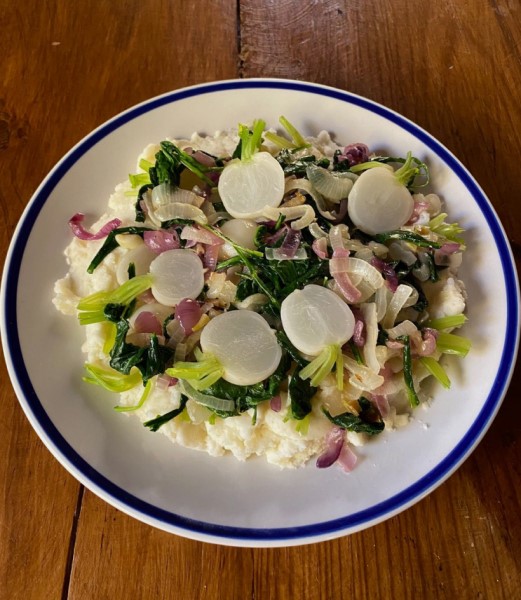 I love potatoes mashed with lots of butter and whole cream, but sometimes I crave some sharpness along with the sweetness and some texture and color along with white smoothness. This Deborah Madison recipe satisfies those cravings perfectly.
My only modification is that I use a red onion and a yellow one for added color.
4 russet (about 2 pounds), peeled and chunked
3/4 pound or more turnips with greens attached (8 to 10 small summer turnips)
1 thyme sprig
sea salt and freshly ground pepper
a 3 – ounce chunk of goat cheese and/or butter to taste (optional)
1 tablespoon butter plus 2 teaspoons olive oil or all olive oil
2 large onions, sliced about ¼ inch thick
1 pound, more or less turnip greens or broccoli rabe
Put the potatoes and turnips in a pot, cover with cold water, and add the thyme and 2 teaspoons salt. Bring to a boil and cook, uncovered, until soft, 20 to 25 minutes. Drain then mash, adding cooking water if needed to thin the vegetables and the cheese and/or butter to taste. Taste for salt and season with pepper. Keep warm in a double boiler if you're not ready to serve.
Melt the butter with the oil in a large cast-iron or nonstick skillet. Add the onions and cook over medium-high heat, stirring frequently, until golden and tender, 12 to 15 minutes. Season with salt and pepper and turn off the heat.
Lop off the stems of the turnip greens. If using broccoli rabe, peel the thicker stems. Cook in boiling salted water until tender, about 8 minutes in both cases, but taste to make sure. Drain, then add them to the pan with the onions.
To serve, mound the mash on a platter and smother it with the onions and greens.
This locally inspired recipe is brought to you by Pam Walker. Pam is an avid home cook, writer, and local farm and food activist who is also a board member of the Santa Fe Farmers' Market Institute. Thank you, Pam, for helping inspire us to use locally sourced ingredients!