Lamb Meatballs in Sour Cherry Sauce (Kabab Karaz)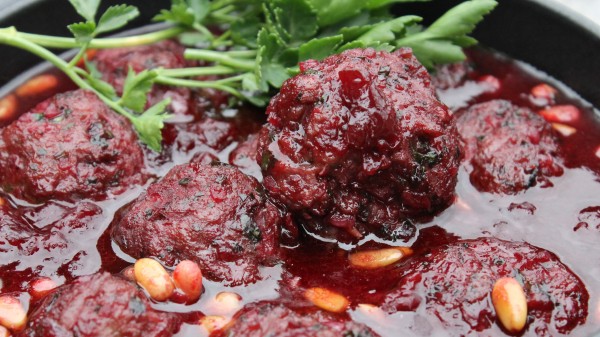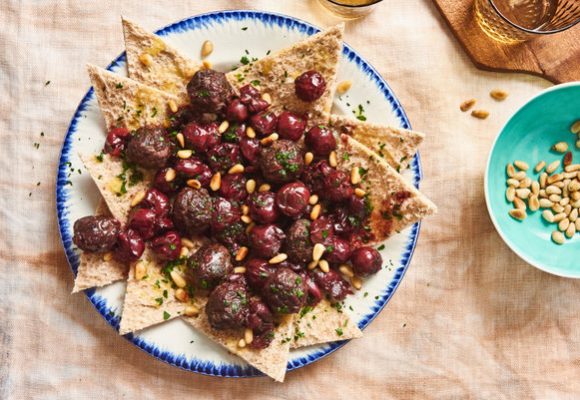 By Pamela Walker, writer and local farm and food activist (www.GrowingGoodThingsToEat.com)
More sour cherries from an increasing number of vendors are appearing at the Market these days, including an excellent heirloom variety – small, deep red, tart, and delicious — from Zulu's Petals.
By timely coincidence, this recipe from Anissa Helou's encyclopedic new cookbook, Feast: Food of the Islamic World, recently appeared in the New York Times.  According to Helou, it "symbolizes the cooking of Aleppo" and comes from Maria Gaspard-Samra, an Aleppo chef.  A beautiful and enticing photograph of the dish graces the cover of the cookbook.
For the meatballs:
1 lb Lean Ground lamb, from the leg or shoulder
¾ tsp Fine Sea Salt
½ tsp Lebanese 7-spice mixture (see notes) or Allspice
1 tbsp Unsalted Butter
For the cherry sauce:
2 ¼ lbs Fresh or Frozen Pitted Sour Cherries (see notes)
1 tbsp Raw Cane Sugar
1 tbsp Pomegranate Molasses
For assembly:
2 to 3 Pita Breads, each split into 2 disks and cut into medium triangles
1 tbsp Unsalted Butter, melted
A few sprigs Flat-leaf Parsley, most of the bottom stems discarded, finely chopped
¼ cup Pine Nuts, toasted in a hot oven for 5 to 7 minutes, until lightly golden
Make the meatballs:

 

Mix the lamb, salt and spice mixture (or allspice) and shape into small balls, the size of large marbles. Melt the butter in a large skillet over medium heat and sauté the meatballs just until lightly browned. Remove from pan with a slotted spoon and set aside.
Put the cherries, sugar and pomegranate molasses in a pot large enough to eventually hold the meatballs and bring to a bubble over medium heat. Reduce the heat to medium-low and, stirring occasionally, simmer for 15 to 25 minutes, or until the sauce has thickened. Add the meatballs and simmer for another 15 minutes, until tender.
Assemble the dish:

 

Arrange the pita bread triangles all over a serving platter, coarse side up, making sure the pointed ends are nicely arranged on the outside. Drizzle the melted butter all over the bread. Spoon the meat and sauce over the bread. Sprinkle the chopped parsley all over, then the toasted pine nuts. Serve immediately.
To make the Lebanese 7-spice mixture, combine 1 tablespoon each of finely ground black pepper, ground allspice and ground cinnamon with 1 teaspoon each ground coriander, ground cloves, ground ginger and freshly grated nutmeg. This makes about 1/4 cup/25 grams; transfer the remaining spice mixture to an airtight container and store away from both heat and light. Use leftover spice mixture in tomato sauce and marinades for grilled meat or chicken, or on tabbouleh.
If you can't find fresh sour cherries, use dried sour cherries and rehydrate them by soaking them overnight in water: 2 cups/500 milliliters water for 14 ounces/400 grams pitted dried sour cherries. Add the soaking water along with the cherries when you make the sauce.
This locally inspired recipe is brought to you by Pam Walker. Pam is an avid home cook, writer, and local farm and food activist who is also a board member of the Santa Fe Farmers' Market Institute. Thank you, Pam, for helping inspire us to use locally sourced ingredients!