2015 Farmer All-Star: Jose Gonzalez and Maria Mandujano of Gonzales Farm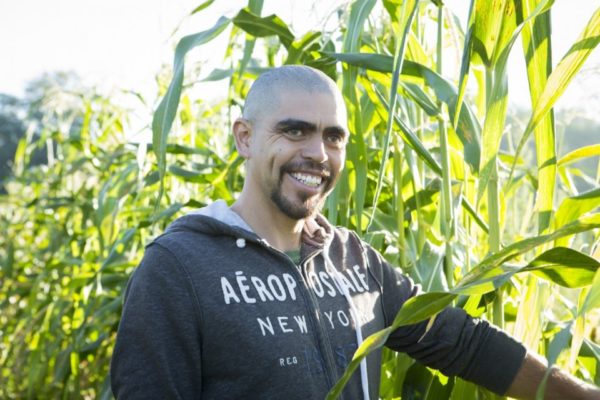 Don't let Jose Gonzalez's youthful appearance fool you. He grew up on a farm in a small village in Guanajuato, Mexico and has over twenty-five years of experience in agriculture in this country! For much of that time he worked for fellow market vendors Phil Loomis and Salvador Corona.
But since he met his wife, Maria who is also from Guanajuato ten years ago, they have run their own farming operation on two plots of rented land near Espanola.
Jose grows squash, cucumbers, corn, potatoes, beans, sunflowers, and the signature peppers Maria uses in her ristras and decorations. Although he is not Certified Organic, he grows all of his wonderful products chemical and pesticide free. Jose is a family man and believes in only growing food that he would feel comfortable feeding to his family.
Because Jose farms with only Maria's help, there's no getting around the fact that he works long farmers' hours. During harvest months, he wakes at 4:30 in the morning and works until 9 at night. In the winter months, you can find him pruning trees for many of the Market's orchards.
He and Maria are raising their children, Mia and Dominic with good values and a strong work ethic. He loves the hard work, being outside, and seeing what he's produced with his own hands. When asked what may make his life as a farmer a little easier, he says it would be the ability to own his land, rather than rent. Jose and Maria have used the Institute's micro loan program wisely to build their credit, working towards their dream.
Their constant presence at almost every Tuesday and Saturday market all year long make them some of the most recognizable and faithful vendors of the Santa Fe Farmers Market.
In the warm months, they sell their wonderful produce by the water tower and in the cold winter months, you can still find them outside selling sage animals, chile ristas, and other flower art produced by Maria. You can find her beautiful creations at the Gonzalez Farms booth, or stop by and see them in person tonight at the registration tables!
The Institute thanks Jose and Maria for their lifetime dedication to agriculture and continuing hard work.