Ginger and Turmeric Noodle Soup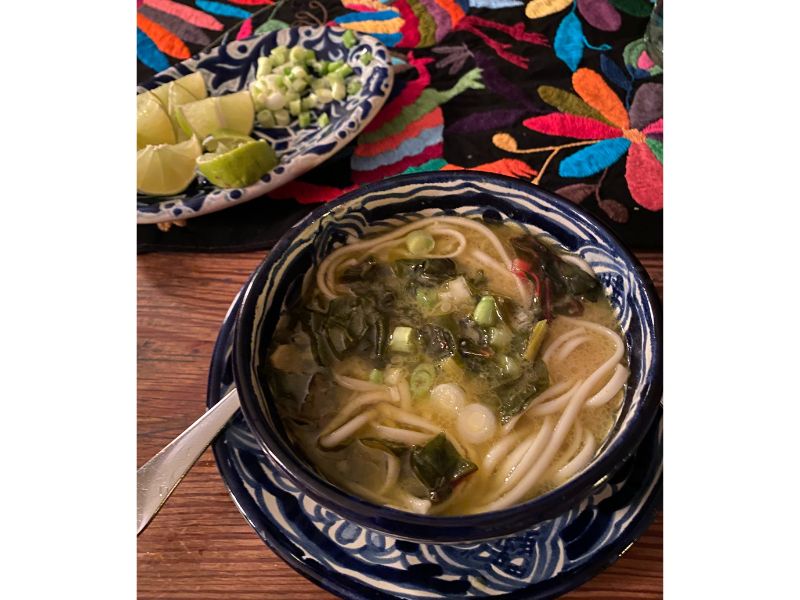 When David Rubin of Farm Stand Thank and Trust appears at the market with his beautiful ginger and turmeric, my heart leaps with joy, and I buy enough to freeze to tide me over, at least somewhat, when ginger and turmeric aren't in season.
With a supply still on hand, I recently discovered this Food and Wine recipe by Hetty McKinnon on Instagram and Facebook and prepared it. Not only did I have ginger and turmeric from the market, but I also keep a supply of other main ingredients from the market – shallots and garlic. Plus, I had a bunch of beautiful rainbow chard falso rom the market. The more fresh, local ingredients in a dish, the merrier! We are so fortunate for our wonderful farmers and farmers' market.
Ginger and Turmeric Curry Paste
4 medium garlic cloves, roughly chopped

5 medium shallots, roughly sliced

1 (3-inch) piece fresh ginger, peeled and roughly sliced (about 1 1/4 ounces)

3 serrano chiles, stems removed, roughly sliced

2 teaspoons fresh lime juice

2 teaspoons ground cumin

2 teaspoons ground turmeric

1 teaspoon ground coriander

1/4 cup good-quality coconut oil
Garlic Oil
1/4 cup olive oil

1 large garlic clove, very thinly sliced
Soup
1 tablespoon olive oil

4 cups vegetable stock (such as Swanson)

1 (13.5-ounce) can coconut milk

10 ounces uncooked

udon

noodles

1 1/2 teaspoons fine sea salt
1 (5-ounce) bunch Swiss Chard, stems removed, roughly chopped
2 scallions, finely chopped
1 cup fresh cilantro leaves
1 lime, quartered
Make the ginger and turmeric curry paste
Combine garlic, shallots, ginger, chiles, lime juice, cumin, turmeric, and coriander in a blender or food processor, and pulse until ingredients are finely chopped. Add coconut oil and pulse until ingredients form a smooth paste. (Keep any unused paste in an airtight container in refrigerator up to 7 days, or freeze in an airtight container.)
Make the garlic oil
Heat olive oil in a small saucepan over medium-high. Add the garlic slices and cook until sizzling, 30 to 40 seconds. As soon as you see any sign of browning, remove from heat immediately, as the garlic will continue to cook and turn completely golden in the hot oil.
Make the soup
Heat a deep, high-sided skillet over medium-high and drizzle with olive oil. Add 1/2 cup turmeric and ginger curry paste. Reduce heat to low and cook, stirring constantly, until aromatic, 2 to 3 minutes. Stir in vegetable stock and coconut milk. Let simmer 6 to 8 minutes to allow the flavors to meld.

Meanwhile, bring a large pot of salted water to a boil and add noodles. Cook according to package directions for al dente. As soon as the noodles are al dente, drain and rinse under cold running water. Divide noodles evenly among 4 serving bowls.
Season broth with salt. Turn off heat and stir in chard. To serve, ladle broth mixture over the noodles. Top with scallions and cilantro; drizzle with garlic oil. Serve with lime wedges.
This locally inspired recipe is brought to you by Pam Walker. Pam is an avid home cook, writer, and local farm and food activist who is also a board member of the Santa Fe Farmers' Market Institute. Thank you, Pam, for helping inspire us to use locally sourced ingredients!