Cucumber, Tomato, and Feta Salad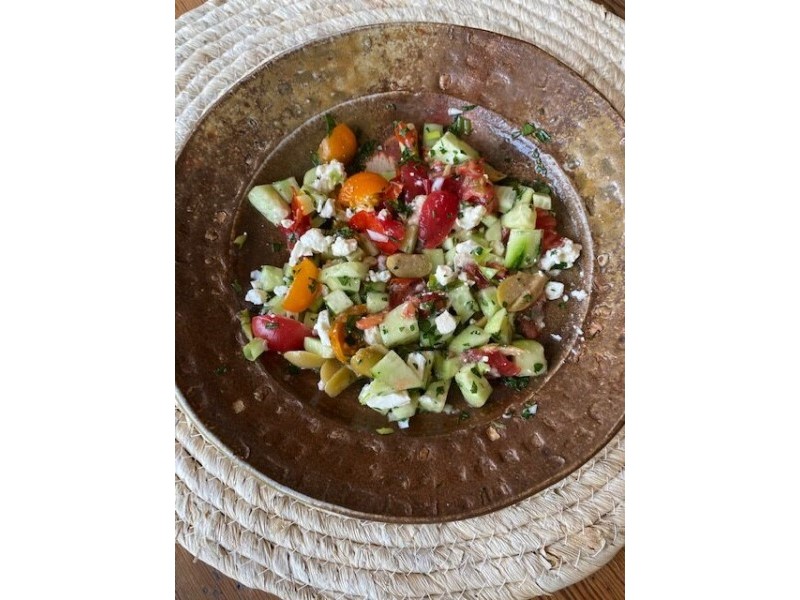 I love the combination of textures and flavors in this simple salad – the crispness of cucumbers, the softness of tomatoes, the tang of feta. As for proportions of ingredients, it depends on what I have on hand and what I feel like eating at the time.
Cucumbers
Tomatoes
Feta
Garlic
Scallions
Parsley
Olives
Olive oil
Lemon juice
I peel the cucumber or cucumbers and dice them.
I quarter or cut into eighths a tomato or tomatoes.
I mince a clove or two of garlic and also mince a scallion or two and also mince parsley.
I add small chunks of feta. Sometimes I add olives, and sometimes I don't.
Whatever the mix, I toss it all with olive oil and lemon juice and salt and pepper.
This locally inspired recipe is brought to you by Pam Walker. Pam is an avid home cook, writer, and local farm and food activist who is also a board member of the Santa Fe Farmers' Market Institute. Thank you, Pam, for helping inspire us to use locally sourced ingredients!