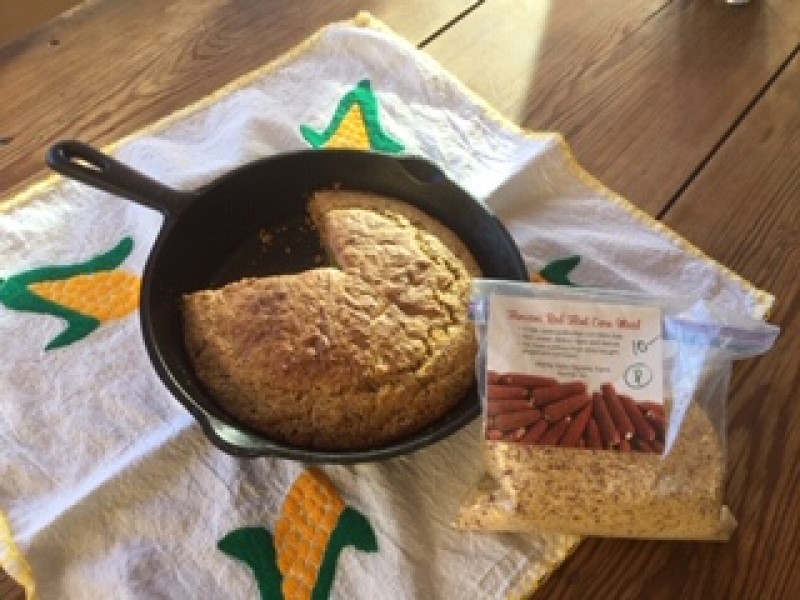 I consider myself a connoisseur of corn bread. After all, I'm an old southern girl who grew up on it and loves to make it to this day. At a market last month, I bought a bag of Floriani Red Flint corn meal from Monte Vista Organic Farm, and it produced one of the most delicious and nicely textured corn bread I've ever enjoyed. It was so good that I wonder if I can ever make corn bread again with any other corn meal.
The recipe I've relied on for most of my adult life is from Linda West Eckhardt's The Only Texas Cookbook (Austin: Texas Monthly Press, 1981). She calls for sugar, but I'm of the school that considers sugar heretical – a northern touch that's not legitimately southern — and wouldn't dream of including it. And in fact, including flour is a bit heretical for me. My mother and grandmother made corn bread without any flour whatsoever. I tried to emulate them for years but never could make it turn out right and finally had to resort to including flour.
In addition to omitting sugar, I also omit Eckhardt's final touch of turning on the broiler to brown the top. Mine browns fine without doing this.
3 tablespoons bacon grease
1 cup corn meal, preferably yellow
½ cup flour
½ teaspoon salt
½ teaspoon baking soda
½ teaspoon baking powder
1 tablespoon sugar (optional)
1 cup buttermilk, well mixed
1 egg
Preheat oven to 500 degrees.
Place 3 tablespoons of bacon grease in a 10-inch cast-iron skillet and heat until almost smoking.
Mix cornmeal, flour, salt, soda, baking powder, and sugar (optional).
Add buttermilk and stir well.
Add egg and mix.
Pour hot grease into batter and stir quickly.
Test skillet with a drop of water. If it sizzles, pour batter into skillet. If it doesn't sizzle, reheat skillet on top of stove until piping hot, then add batter. Put into hot oven immediately. The top will look shiny. Cook it until the top looks dull (probably no more than 10 minutes). When you touch it with your finger it should feel firm.
Now you can turn on the broiler to brown the top, though it is not necessary.
Serve immediately.
This locally inspired recipe is brought to you by Pam Walker. Pam is an avid home cook, writer, and local farm and food activist who is also a board member of the Santa Fe Farmers' Market Institute. Thank you, Pam, for helping inspire us to use locally sourced ingredients!