Cauliflower with Cassolet Beans and Capers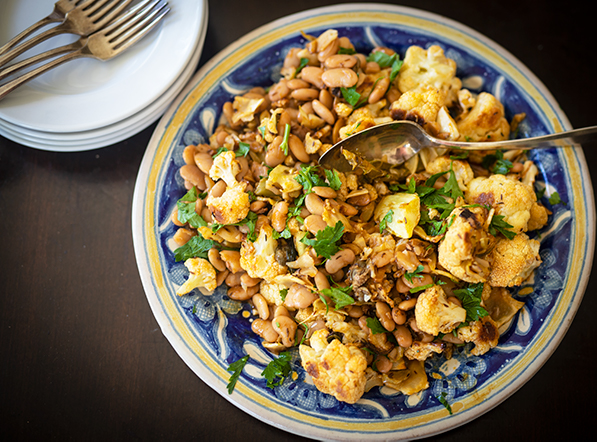 By Pamela Walker, writer and local farm and food activist (www.GrowingGoodThingsToEat.com)
This recipe comes from the latest email message from Steve Sando, founder of Rancho Gordo, which promotes and purveys heritage beans. Sando came across it in Omar Allibhoy's recent Spanish Made Simple.
"Sando says he roasts the cauliflower instead of boiling it and that the addition of cooked white beans makes this an easy main course instead of a side dish.  While he recommends a couple of varieties of beans offered by Rancho Gordo, I imagine that any type of beans available at the Santa Fe Farmers' Market would be excellent.   He also recommends New Mexico red chile powder as an alternative to smoked paprika, and I heartily concur!"
1 large head of cauliflower, broken into florets and leaves reserved
4 tablespoons extra virgin olive oil (divided use)
Salt
Pepper
5 garlic cloves, sliced
5 tablespoons drained capers
1 teaspoon cumin seeds
1 teaspoon sweet pimentón (sweet smoked paprika)
3 1/2 tablespoons Jerez sherry vinegar
1 cup cooked Rancho Gordo Cassoulet or Alubia Blanca beans
Preheat the oven to 450F.
In a large bowl, toss the cauliflower pieces with 2 tablespoons of the olive oil, a pinch of salt and some cracked pepper. Toss well.
Transfer the cauliflower to a large baking sheet and roast in the oven for 10 minutes. Shake the pan to loosen and move the cauliflower and cook for another 6-8 minutes. Set aside.
Pour the remaining 2 tablespoons oil into a cold frying pan, add the reserved cauliflower leaves, sliced garlic, capers and cumin seeds and then turn the heat to high. When the garlic turns golden, add the pimentón and then the sherry vinegar. Cook for 30 seconds to reduce the liquid a bit.
Reduce the heat to medium and add the beans; cook for about 4 minutes, until the beans are warmed through. Add the roasted cauliflower. Make sure the ingredients are well mixed and serve.
You could easily make this more Rancho Gordo-like by using New Mexican Chile Powder for the pimentón and Rancho Gordo's Pineapple Vinegar for the sherry vinegar.
This locally inspired recipe is brought to you by Pam Walker. Pam is an avid home cook, writer, and local farm and food activist who is also a board member of the Santa Fe Farmers' Market Institute. Thank you, Pam, for helping inspire us to use locally sourced ingredients!