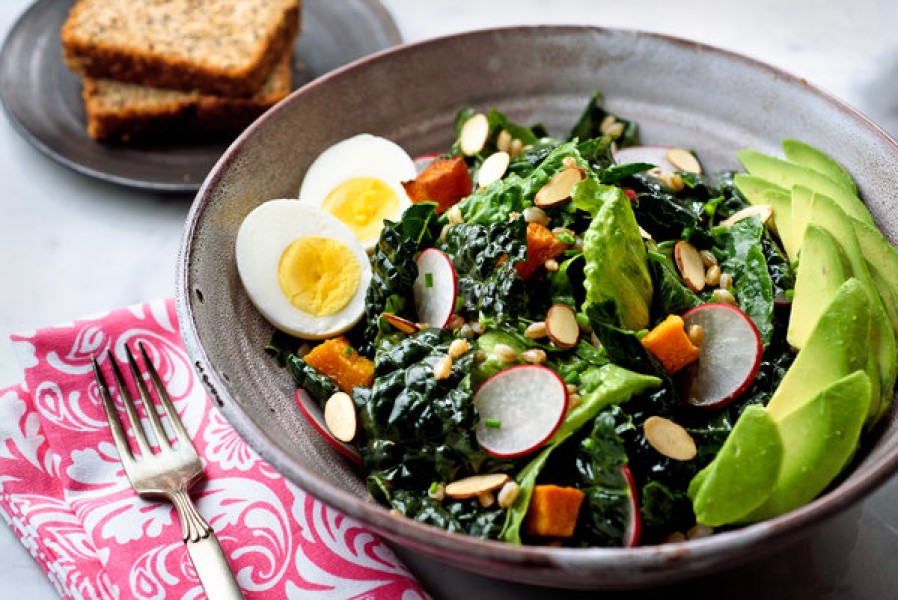 Recipe and image courtesy of The New York Times.
I love one-dish meals – stews and soups and casseroles and certain salads that add up to a complete meal. So I was delighted to discover this salad by Julia Moskin in last week's NYT food section. One of its beauties is that it is suggestive of innumerable variations, a perfect template for seasonal eating based on what's available at any given time at the Santa Fe Farmers' Market.
Let's raise our forks to another salad for National Salad Month and dig in!
From Karsten Moran for The New York Times:

There's no true recipe for a big salad, but for this robust green meal, you will want to keep a few rules in mind. Skip the soft lettuces, which tend to get squashed in a big salad, and start with sturdier greens, like kale or escarole. Add fruits and vegetables, a protein, like a hard-boiled egg, and a starch or two. You want a total of six to eight ingredients, before toppings. Too few, and it could get boring; too many, and the bowl gets crowded and confusing. Finish it off with a substantial dressing, like avocado, yogurt or tahini, and add a couple of toppings, like chives or chopped nuts. Serve with a side of whole-grain bread for a filling and healthy meal.
2 cups sturdy salad greens (Romaine, iceberg, escarole, or kale)
½ cup cooked grains (quinoa, farro, bulgur wheat, or barley)
1 cup roasted vegetables (potatoes, sweet potatoes or winter squash)
¼ cup thinly sliced raw vegetables (bell peppers, celery, carrots, fennel, mushrooms, onions, radishes, snap peas, summer squash or tomatoes
¼ cup salad dressing (yogurt, tahini or a vinaigrette), plus more to taste
½ avocado, thinly sliced
1 hard-boiled egg, peeled and halved
2 teaspoons snipped chives, plus more to taste
2 teaspoons sliced or chopped nuts (almonds, walnuts, pecans, or hazelnuts), plus more to taste
Whole-grain bread, for serving
Place greens in bottom of serving bowl. Add grains in an even layer over greens. Repeat with the roasted vegetables, then the raw vegetables.
Top with dressing, and toss gently. Fan out avocado on top on one side of bowl.
Place hard-boiled egg pieces on the side opposite the avocado. Top with chives and nuts. Serve with whole-grain bread.
This locally inspired recipe is brought to you by Pam Walker. Pam is an avid home cook, writer, and local farm and food activist who is also a board member of the Santa Fe Farmers' Market Institute. Thank you, Pam, for helping inspire us to use locally sourced ingredients!