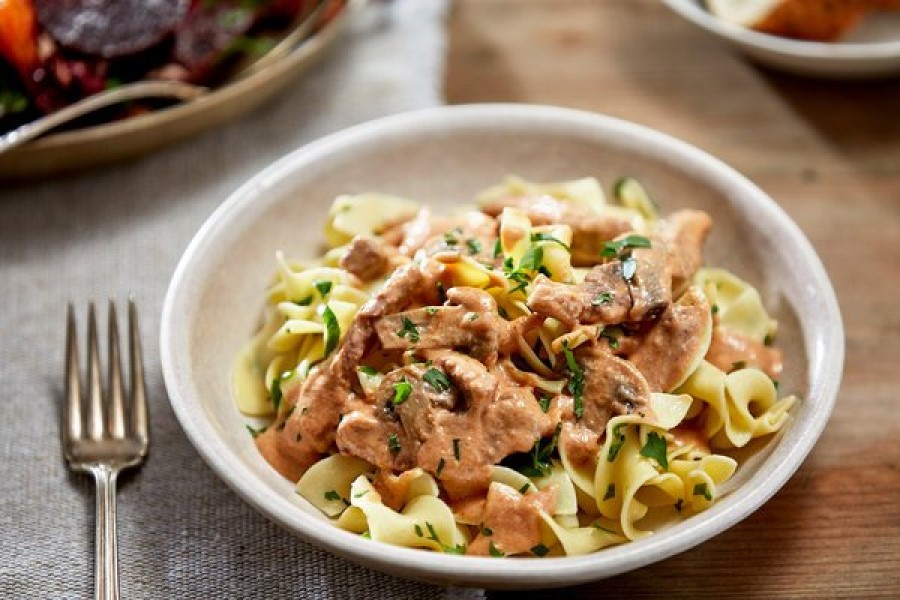 Image courtesy of The New York Times.
Beef stroganoff was a dinner favorite during my childhood. My mother used a store-bought seasoning packet, McCormick's, I think, and hamburger meat. I loved it, but didn't know until I was a young adult how truly wonderful beef stroganoff could be when made from scratch.
Craig Claiborne's 1963 recipe reappeared recently in The New York Times, and inspired me at this past Saturday's market to head straight for Red Mesa Meats and buy beef shanks (for stock) and beef tenderloin. I bought shallots and onions from Green Tractor Farm, fresh butter from Old Windmill Dairy, and fresh shitake mushrooms from Southwest Mushroom Cultivators.
The result? Possibly the best beef stroganoff I've ever made!
Yield: four to six servings
½ cup flour
1 teaspoon salt
¼ teaspoon freshly ground black pepper
2 pounds beef tenderloin or boneless sirloin of beef, trimmed of all exterior fat and cut int 2-by-1/4-by-1/4-inch strips
½ cup (one stick) butter
½ cup finely chopped onion
½ pound mushrooms, thinly sliced
2 cups beef stock or canned beef bouillon
1 cup sour cream
3 tablespoons tomato paste
1 teaspoon Worcestershire sauce
3 tablespoons finely chopped parsley
Combine the flour, salt and pepper. Dredge the meat in the mixture.
Brown the meat in one-quarter cup of the butter in a saucepan. Remove meat from the pan and set aside.
Add the onion to the pan and sauté until transparent. Add the mushrooms and remaining butter and sauté 3 to 5 minutes longer.
Add the beef stock or bouillon and bring to a boil. The preparation, to this point, may be done ahead.
Add the meat to the sauce and cook until meat is tender but not overcooked, 3 to 10 minutes, stirring often.
Combine sour cream, tomato paste and Worcestershire sauce. Add some of the beef sauce to sour cream mixture. Return to pan and heat meat and sauce, stirring. Do not boil. Sprinkle with parsley. Serve with buttered parsley noodles.
This locally inspired recipe is brought to you by Pam Walker. Pam is an avid home cook, writer, and local farm and food activist who is also a board member of the Santa Fe Farmers' Market Institute. Thank you, Pam, for helping inspire us to use locally sourced ingredients!