A Cobbler of Vegetables and Chicken or Turkey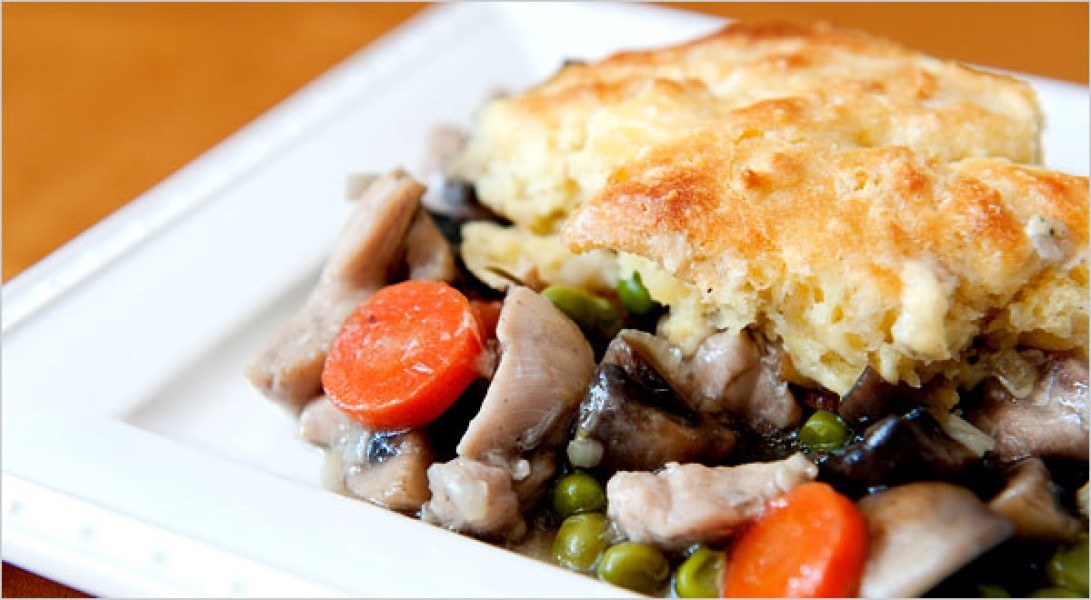 Image courtesy of The New York Times.
I love pot pies, but I have never learned to make a decent pie crust. So when I crave a chicken or turkey pot pie, I make a cobbler, combining a selection of vegetables available in the farmers' market with either chicken or turkey leftovers that I froze after roasting or braising for a previous meal.
Potatoes, carrots, mushrooms, and onions are plentiful now, and for something green, in lieu of peas or green beans available in warmer months, I like to include spinach, too. And more often than not, I add diced, roasted green chiles that I buy in season and freeze.
In making the crust, I substitute lard for butter, but only lard from pasture-raised and pasture-finished animals. Red Mesa Meats makes lard available by request. Some weeks back, I bought some and rendered it, and keep it on hand in my refrigerator. It adds robustness to the flavor and a nice brownness to the crust.
For a basic recipe, I play around with Mark Bittman's Chicken and Vegetable Cobbler.
3 tablespoons olive oil
1 leek, well washed and chopped
Salt
Black pepper
2 cups quartered button mushrooms
1 ½ cups chicken stock
1 sprig fresh rosemary
2 medium carrots, cut into coins
2 boneless chicken thighs, diced
1 cup peas, frozen or fresh
2 tablespoons cornstarch
1 cup flour
¾ teaspoon baking powder
⅛ teaspoon baking soda
¼ teaspoon salt
2 to 3 tablespoons unsalted butter, cut into bits
½ cup buttermilk (see note)
1 egg
Heat oven to 400 degrees. Put oil in a large skillet over medium heat. When oil is hot, add the leek, sprinkle with salt and pepper, and cook, stirring occasionally, until softened, about 5 minutes. Add mushrooms and cook until liquid has released and evaporated, about 8 to 10 minutes.
Add stock and rosemary; bring to a boil, and let bubble for a minute or two, then add carrots and chicken and reduce heat so the liquid simmers. Cook until carrots are almost tender and chicken is cooked through, 8 to 10 minutes. Add peas and cook, stirring occasionally, until vegetables are brightly colored and just tender, another minute or so; fish out rosemary stem and discard.
Whisk cornstarch with a few tablespoons of broth to make a slurry. Add slurry to pot and stir until liquid thickens slightly. Transfer everything to an ovenproof dish and set aside.
Put flour in a food processor with baking powder, soda and salt. Add butter and process until mixture resembles small peas, no more than 30 seconds. (You can also do this by hand, using two knives, a fork, your fingers, or a pastry cutter). Transfer mixture to a bowl and mix in buttermilk and egg until it just comes together; it should be sticky.
Drop spoonfuls of batter on top of vegetables and chicken and smooth with a knife, covering as much surface area as possible but leaving a few gaps for steam to escape. Bake for 35 to 45 minutes until golden on top and bubbly underneath. Scoop into bowls and serve immediately.
If you don't have buttermilk, gently warm milk until it's about 100 degrees; stir in a couple of teaspoons of vinegar and let sit for 5 minutes.
This locally inspired recipe is brought to you by Pam Walker. Pam is an avid home cook, writer, and local farm and food activist who is also a board member of the Santa Fe Farmers' Market Institute. Thank you, Pam, for helping inspire us to use locally sourced ingredients!