White bean, tuna, and celery salad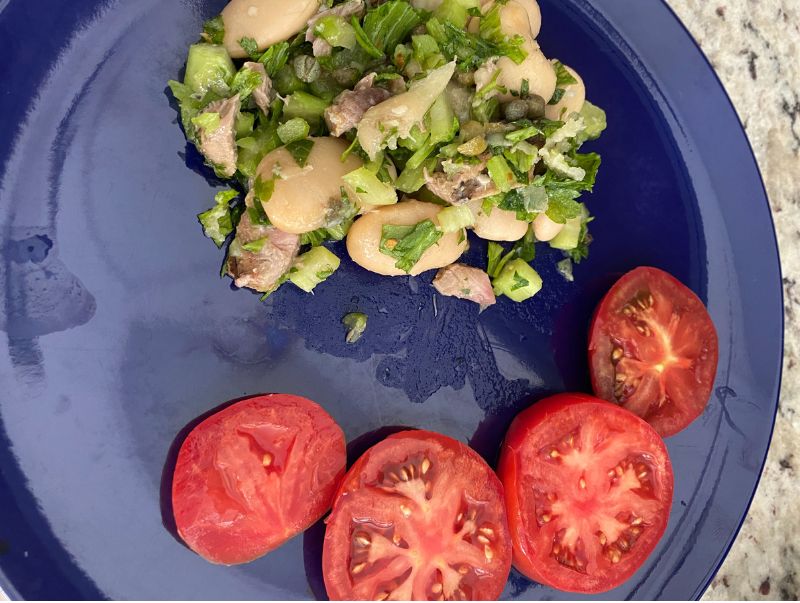 I love beans, all kinds of beans, and keep my pantry stocked with a variety from the market and from Rancho Gordo, the wonderful heirloom bean purveyor in Santa Rosa, California. When this recipe from the "Eat Voraciously" series of The Washington Post appeared in my email inbox, I knew I wanted to make it. I was out of cannellini beans, as called for in G. Daniele Galarza's recipe, and instead used a big, fat, beautiful butter bean called "Royal Corona" from Rancho Gordo. And instead of canned tuna, I used leftover fresh tuna steak.  I love lemon and garlic and used more than called for. The result? A wonderful late-summer salad!
Recipe by G. Daniele Galarza for The Washington Post
Ingredients
4 to 6 stalks celery, preferably the heart and leaves, chopped
1 (15-ounce) can or 1 1/2 cups cooked cannellini beans, drained and rinsed
3 tablespoons fresh lemon juice (from 1 to 2 lemons), plus more to taste
1 clove garlic, minced or finely grated
Fine salt
1/2 bunch fresh flat-leaf parsley (about 1/2 ounce), chopped
1 (6- to 8-ounce) jar or can tuna in olive oil
2 tablespoons capers in brine
Freshly ground black pepper
Calabrian chile oil (optional)
In a medium bowl, combine the celery, beans, lemon juice, garlic and a pinch of salt. Stir and taste, adding more salt, if desired.

Stir in the parsley, tuna and its oil, and capers. Taste, and season with more lemon juice or salt, if desired. Season to taste with freshly ground black pepper and a few drops of the chile oil, if using.

Serve at room temperature, or cover and refrigerate until needed.
This locally inspired recipe is brought to you by Pam Walker. Pam is an avid home cook, writer, and local farm and food activist who is also a board member of the Santa Fe Farmers' Market Institute. Thank you, Pam, for helping inspire us to use locally sourced ingredients!