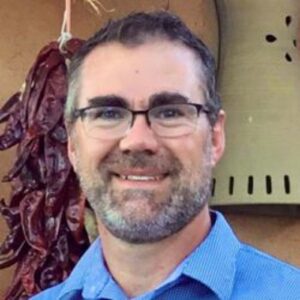 David Sundberg
Program Development Director
David graduated from the school of Hotel & Restaurant Management at the University of Missouri – Columbia, after which he built his culinary chops working and staging under numerous chefs. He has traveled and worked extensively throughout the U.S., Mexico, and Europe while cultivating his palate and passion for food and food history.
Relocating to Rhode Island with his future wife, Stefanie, David wrote for local publications, taught cooking classes, and worked for numerous restaurants and caterers. They moved to New Mexico in 2009, drawn by the enormous skies, breathtaking mountains and the belief that the effort it takes to live in this challenging environment builds stronger relationships within the community and deepens connection with place.
David has worked locally at Red Sage at Buffalo Thunder and Tierra at Encantado, Blue Corn Brewery, Sirphey and Harry's Roadhouse. He decided to leave the hospitality industry in 2020 to pursue his passion supporting local food and farmers. He currently co-chairs the Santa Fe Food Policy Council and works with numerous local non-profits and organizations to create policies that support local agriculture, food access and health and nutrition in our communities. He's built strong relationships with producers and provides access to useful knowledge and opportunities critical to developing a sustainable regional food system.
Working for the Institute will allow David to engage with amazing local farmers beyond purchasing and policy work. "David says he's thrilled to fill the position of Program Director at the Farmers Market Institute, and we're thrilled to have him on board," says Executive Director Andrea Maril. "He's a skilled communicator and networker and that will help us expand the ecosystem of producers, consumers and support organizations.