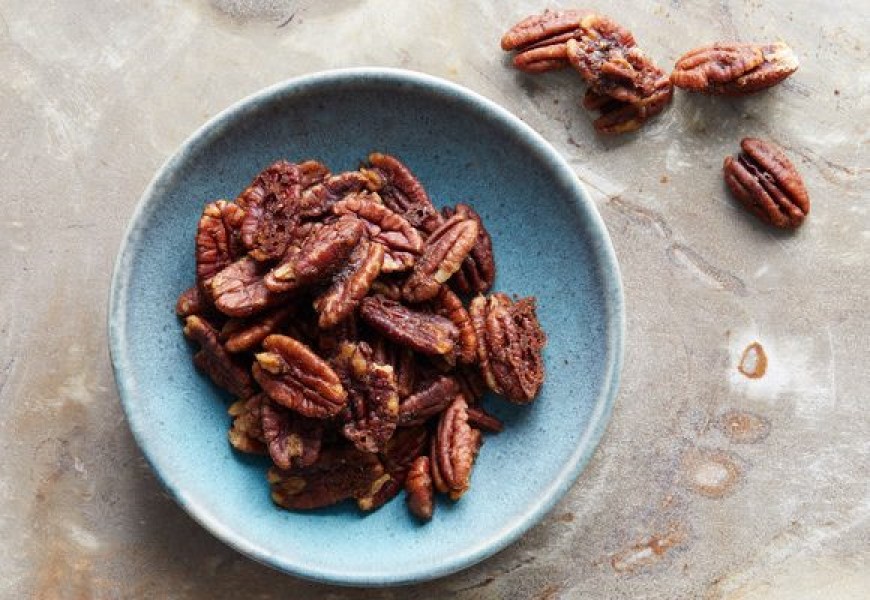 Image courtesy of The New York Times.
I buy pecans in the season of their harvest and enjoy a lot of them then, and I also buy plenty for freezing and later, in the clutch of winter, spicing up, giving some as holiday gifts. Here's a recipe from Kim Severson of The New York Times that easily lends itself to being sweeter more than spicy or spicier more than sweet.
Severson says that the two keys to success are making sure to toast the pecans well but not burn them, and, of course, to buy good quality pecans, like those at CLC Pecans at the Santa Fe Farmers' Market.
1½ teaspoons kosher salt
¾ teaspoons black pepper
¾ teaspoon cayenne pepper
½ teaspoon ground ginger
1½ teaspoons cinnamon
2 tablespoons light brown sugar
5 tablespoons butter, melted
6 cups pecan halves
Heat oven to 350 degrees. In a small bowl, whisk together everything but the nuts and butter. Add a tablespoon of butter to a large rimmed baking sheet. Add pecans, toss to coat and spread into a single layer. Bake for 10 minutes or until the nuts begin to smell toasted.
Place hot pecans in a large bowl, add remaining butter and toss to coat. Add spice mixture and toss again, then return nuts to baking pan. Toast again for four or five minutes, shaking or stirring the nuts once during baking time.
Cool completely and pack into gift jars. Can be stored for a week.
This locally inspired recipe is brought to you by Pam Walker. Pam is an avid home cook, writer, and local farm and food activist who is also a board member of the Santa Fe Farmers' Market Institute. Thank you, Pam, for helping inspire us to use locally sourced ingredients!