Summer Posole from Deborah Madison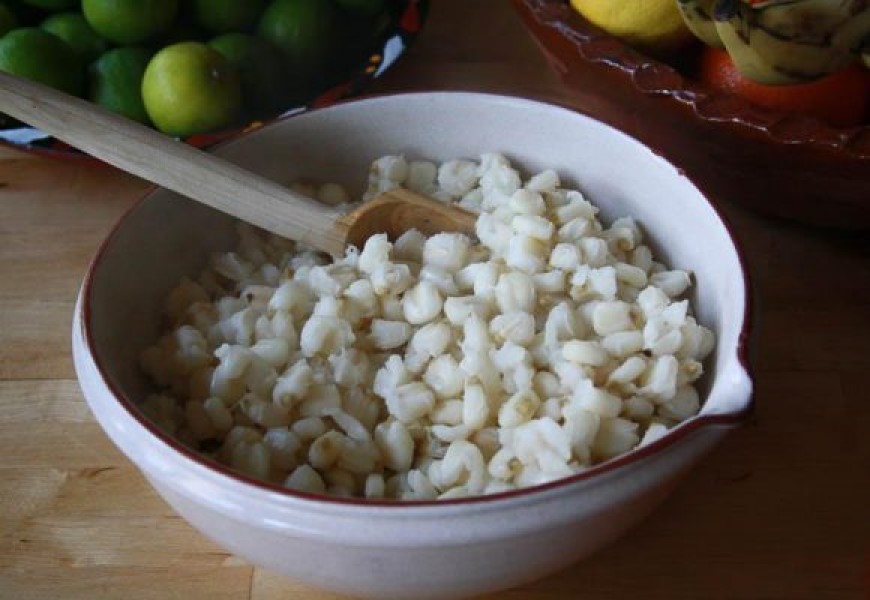 Recipe courtesy of Deborah Madison, from her book, Local Flavors--one amongst her many. Image courtesy of Rancho Gordo.
My stepson is visiting me in a few days, and I want to cook something New Mexican but not heavy. Deborah Madison's summer posole sprang to mind. Steve Sando of Rancho Gordo likes it, too, as I discovered when I turned from my many Deborah Madison cookbooks to see if I could find her recipe and an image online. I did, thanks to Rancho Gordo.
1 pound dried White Corn Posole (prepared hominy)
1 large white onion, finely diced
3 cloves garlic, minced
1 1/2 teaspoons Mexican Oregano
6 large New Mexico green chiles (or poblanos)
1 bunch scallion, finely chopped
1 cup cilantro, finely chopped
1 teaspoon cumin seed, toasted and ground
1 pinch sea salt
1/4 cup olive oil
1 whole avocado, diced into chunks
4 whole corn tortillas, slivered
1 cup cabbage, thinly sliced
1 lime, quartered
Put the posole in a large soup pot with onion, garlic, oregano and a gallon of water. Bring to a boil, then cover and simmer until tender. This can take as long as 3 hours, so check pot occasionally and add water as it boils away. The posole will swell considerably, and the kernels will split open.
While the posole is cooking, roast the chiles, then place them in a bowl and cover with a plate to steam for 15 minutes. Slip off the skins, pull out the seeds and chop. Add the chopped chiles to the simmering posole along with 4 teaspoons salt. Continue cooking until the posole is completely tender. Taste for salt.
Preheat the oven to 350F. To make the salsa, combine the scallions, cilantro, chiles, cumin and salt in a bowl. Stir in the oil, add water as needed to thin, and add avocado. Toast the tortilla strips in the oven until crisp, or fry them in vegetable oil.
To serve, stir the salsa into the posole and garnish with a nest of cabbage and tortilla strips and a wedge of lime. Accompany with warm tortillas.
This locally inspired recipe is brought to you by Pam Walker. Pam is an avid home cook, writer, and local farm and food activist who is also a board member of the Santa Fe Farmers' Market Institute. Thank you, Pam, for helping inspire us to use locally sourced ingredients!