Steve Sando's Rancho Gordo Pasta e Fagioli (Pasta and Beans)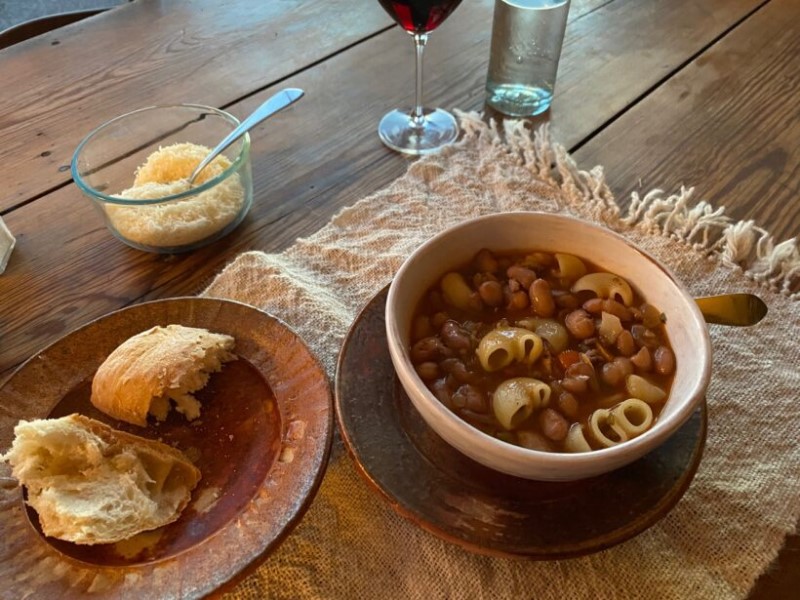 I love beans, and I love pasta, and this combination of the two hits the spot.
A variety of beans is available year round at the market, usually including cranberry, or borlotti, beans, the feature of this recipe from Steve Sando of Rancho Gordo, a California purveyor of heirloom beans.
Steve Sando notes the following:
The dish is easy enough to make vegetarian if that's your fancy. Traditionally, you begin with some good pancetta and start your sauce from there, but it's not necessary if you have good, new crop cranberry (borlotti) beans. Some prefer a drier dish. I tend to like it soupy, but not completely wet. Tomato is an ingredient but it's not the focus. However you end up making it, the stars should be the beans and the pasta and you don't want to mess with that.
3 cups cooked cranberry beans (borlotti beans)
4 cups bean broth from the cooked beans (If you have less than four cups, make up the difference with broth)
2 tablespoons extra-virgin olive oil, plux more for drizzling
4 ounces pancetta, cubed or roughly chopped (optional)
1 medium onion, finely chopped
1 celery rib, finely chopped
1 carrot, minced
1 garlic clove, minced
1 tablespoon tomato paste
½ teaspoon red pepper flakes
1 rosemary sprig
1 pound good-quality pasta shells
salt and pepper to taste
Pecorino or Parmesan cheese, grated, for serving
As you prepare the beans, make sure you have plenty of liquid on hand then they are done, as this will be the basis for your sauce.
While the beans are cooking, prepare the soffritto. In a medium-sized pan, warm the olive oil over medium heat. If using pancetta, slowly fry the pancetta until fragrant and chewy. Once cooked, remove the pancetta with a slotted spoon and let rest on a paper towel. If needed, add more olive oil so there is enough fat to fry the aromatic vegetables. Add the onion, celery, carrot, and garlic and cook, stirring until the vegetables are soft and the onion is turning golden colored. Add the tomato paste and pepper flakes and cook for a few minutes until the paste is heated through and the tomato flavor is intensified.
Add the bean broth and rosemary sprig and adjust the salt and pepper to taste. Continue cooking on a gentle simmer for 15 minutes or so. The liquid should start to reduce.
Meanwhile, cook the pasta, beans, and reserved pancetta (if using) to the soffritto mixture, mix well, and gently cook for a few minutes to marry the various flavors.
Serve immediately with a splash of peppery extra-virgin olive oil Pass around a bowl of grated pecorino or Parmesan cheese for the guests to help themselves.
This locally inspired recipe is brought to you by Pam Walker. Pam is an avid home cook, writer, and local farm and food activist who is also a board member of the Santa Fe Farmers' Market Institute. Thank you, Pam, for helping inspire us to use locally sourced ingredients!