Squash Blossom and Chevre Quesadillas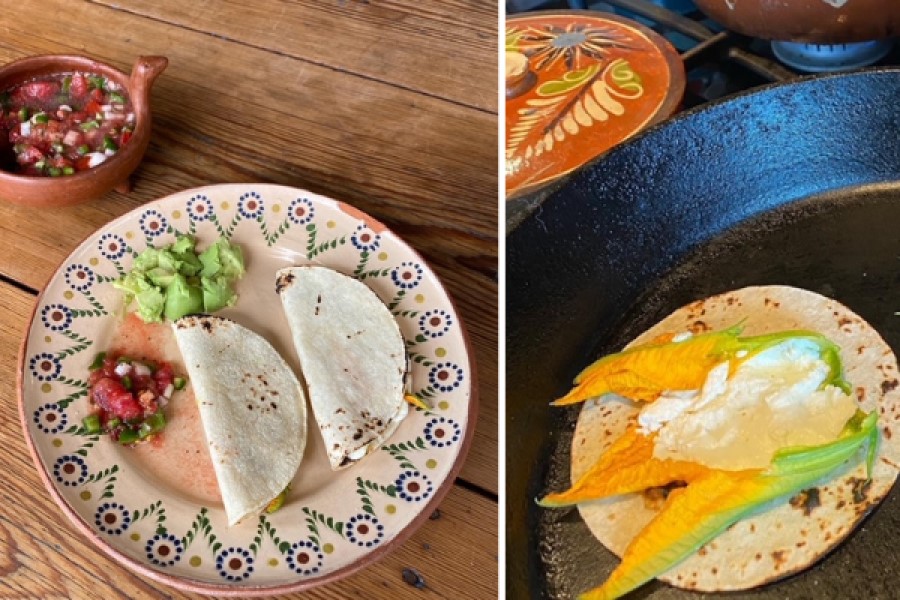 Big, bright, and beautiful squash blossoms light up the market these days. Mendez Farms has been bringing them in abundance. I've been buying them almost weekly and stuffing them with chevre from Camino de Paz and making quesadillas from Trujillo Farms' wonderful corn tortillas. I like to eat the quesadillas with a mild salsa or some sort so as not to overpower the subtle flavor of the squash blossoms. I recently made a mild salsa cruda from market tomatoes, onions, cilantro, green chiles.
Buen provecho!
Squash blossoms
Chevre
Corn tortillas
Gently slice or tear open the squash blossoms and spread chevre on top of them.
Heat a cast iron skillet to low-medium heat.
Place tortillas in the skillet and let them warm for a minute or so and then place the chevre-stuffed blossoms, one per tortilla, on top of the tortilla.
When the cheese starts to melt, fold the tortillas and press gently with a spatula.
Turn the tortillas once or twice to melt the chevre and bring out its flavor.
Eat with salsa, either homemade or store-bought.
This locally inspired recipe is brought to you by Pam Walker. Pam is an avid home cook, writer, and local farm and food activist who is also a board member of the Santa Fe Farmers' Market Institute. Thank you, Pam, for helping inspire us to use locally sourced ingredients!