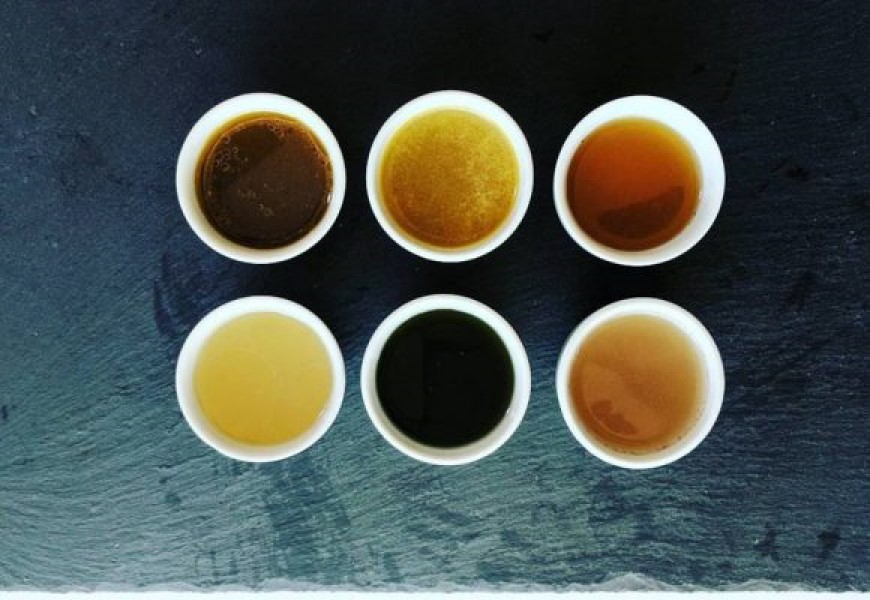 The Market has a new vendor – Madre Foods. They provide warm broths and stocks, packed full of nutritional content and flavor. Here are some recipes they shared with us, using broths and stocks available at their booth!
1/2 cup olive oil
1/2 small onion, chopped finely
1 cup finely chopped mushrooms
1/4 – 1/2 cup flour of choice
4-5 cups Madre Foods Mushroom Melody Stock
1 teaspoon tamari or coconut aminos
1/2 teaspoon sea salt
1/4 teaspoon black pepper
In large skillet, heat oil over medium high heat. Add onion and mushrooms. Cook, stirring, until well browned, 8-10 mins.
Sprinkle in flour and cook, stirring, until golden brown, 3-5 mins.
Slowly whisk in Mushroom Melody Stock, a little at a time, until a smooth sauce forms. Simmer 2-3 mins until thickened. Season with tamari, salt, and pepper. Serve as ism or pass through a fine mesh strainer.
2 tablespoons ghee or butter
2 large yellow onions, roughly chopped
5 garlic cloves, minced
1 tablespoon fresh sage
1 tablespoon fresh thyme
1 tablespoon fresh rosemary
2 tblespoons red wine
4 cups Madre Foods bone broth (our picks: Desert Bison or Marrow Bone)
1/2 teaspoon sea salt, to taste
1/2 teaspoon black pepper, to taste
Melt ghee over medium heat. Add onions. Cook for 15 minutes or until the onions begin to turn golden brown.
Add garlic and herbs. Sauté for a minute. Add red wine to deglaze pan.
Add broth and increase heat to high. Once the mixture comes to a boil, reduce the heat and simmer. Cover the pot and cook for 20-30 mins, or until the mixture reduces by half.
Place the remaining sauce into a blender. Puree until smooth.
Wild Watermelon Radish Soup
2 pounds tofu
4 cups Wild Seaweed Stock from Madre Foods
8 cups water
4 cups watermelon radish, peeled and cut into ¼ in, plus thin slices for garnish
10 large kale leaves, stemmed and finely chopped
7 tablespoons fresh ginger juice
1 teaspoon sea salt
12 green onions, thinly sliced
Black sesame seeds
Fashion a double boiler using a stainless steel bowl placed over a smaller saucepan of simmering water. Gently place the tofu in the stainless steel bowl, cover, and heat through while you're working through the rest of the recipe. You want the tofu to be warm when it is combined with the hot broth later in the process.
In a saucepan over medium-high heat, bring the water to a simmer. Add the watermelon radish and cook until tender, 7 to 10 minutes. Stir in the kale, ginger juice, and salt and continue to simmer for a couple of minutes more.
To serve, spoon a bit of warm silken tofu into each bowl. Ladle in the hot broth and radishes and garnish with green onions, slices of watermelon radish, and a sprinkling of black sesame seeds.
1 loaf whole grain sourdough bread
1/2 cup softened butter (substitute option: coconut oil)
2 medium yellow onions, chopped in ¼ in dice
6 ribs celery, chopped 1.4 in thick
1/4 cup finely chopped fresh sage
2 tablespoons fresh thyme leaves
2 teaspoons chopped fresh rosemary
3 cups Madre Foods broth (Our picks: Desert Bison, Marrow Bone, or Mushroom Melody)
3 eggs
2 teaspoons sea salt
1 teaspoon black pepper
Heat oven to 225. Line baking sheet with parchment paper.
Carve away bread's crust. Cube bread into 1 in pieces.
Arrange cubed bread on the baking sheet. Bake for 90 minutes, stirring half-way through, until crisp. Remove tray from oven and let rest. Turn oven up to 375.
Warm ¼ cup butter in a wide skillet over medium heat. When it begins to froth, stir in the onions and celery, allowing them to cook in the hot butter until fragrant and translucent. Stir occasionally as they cook to prevent browning.
Dump bread, onions, celery, and herbs into a large mixing bowl. Whisk the broth, eggs, salt, and pepper together and then pour them over the toasted bread.
Transfer everything to a 3 quart baking dish. Dot the stop of the stuffing with the remaining butter, and then cover the baking dish with parchment or foil and bake for 30 minutes. Uncover the stuffing and continue baking for a further 10-15 minutes or until golden brown on top. Serve warm.
1 large red kuri squash pumpkin
2 medium red onions
2 tablespoons olive oil
1 teaspoon sea salt
1 cup of coconut cream or heavy cream
2 cups Madre Foods broth (our picks: Imperial Chicken, Mamita's Chicken, or Mushroom Melody)
½ – 1 cup water (dependent on desired consistency
Preheat oven to 480. Wash and chop you kuri pumpkin into inch square pieces. Chop red onions into quarters and arrange onions and pumpkin on a roasting tray. Drizzle with olive oil and sprinkle with sea salt. Turn oven down to 430 and roast until the pumpkin is tender, about 30 minutes.
Once the vegetables are roasted, place them all within a big stove-top pot, and add cream. Blitz until a thick puree.
Slowly add broth and water to the soup, until you reach desired consistency. Do this over low heat on the stove to keep warm.
Continue to blend until smooth even consistency.
Ladle into bowls and serve.
1 loaf whole grain bread, cut into 1 in cubes
10 tablespoons butter (substitute option: coconut oil)
2 shallots, finely sliced
2 ribs celery
2 bunches green onions, thinly sliced
¾ cup chopped fresh Italian parsley
2 tablespoons chopped fresh oregano
2 tablespoons chopped fresh sage
2 tablespoons chopped fresh thyme
3 garlic cloves, minced
2 teaspoons coarse salt
1 teaspoon pepper
3 eggs
1 ½ – 2 cups Black Garlic Broth from Madre Foods
4 ounces freshly grated parmesan cheese
1 pound mushrooms
Preheat oven to 375. Spread cubed bread on baking sheet and transfer into oven. Bake until bread is dry, about 15 minutes. Remove from oven and cool.
Melt butter in heavy large skillet over medium heat. Add mushrooms and shallots. Sauté until golden, about 7 mins. Add celery, green onions, herbs, garlic, salt and pepper. Sauté for 3-4 mins more.
Generously grease a baking dish.
Place bread cubes in large bowl. Add warm vegetables and toss.
Whisk eggs and ¾ cup broth in medium bowl. Add egg mix to stuffing and toss to coat. Mix in Parmesan.
Add more broth (½ – ¾ cup) to stuffing if it still looks dry. Transfer to skillet or baking dish. Cover with buttered foil. Bake 30 mins. Remove foil. Bake until golden, another 30 mins.
This locally inspired recipe is brought to you by Pam Walker. Pam is an avid home cook, writer, and local farm and food activist who is also a board member of the Santa Fe Farmers' Market Institute. Thank you, Pam, for helping inspire us to use locally sourced ingredients!