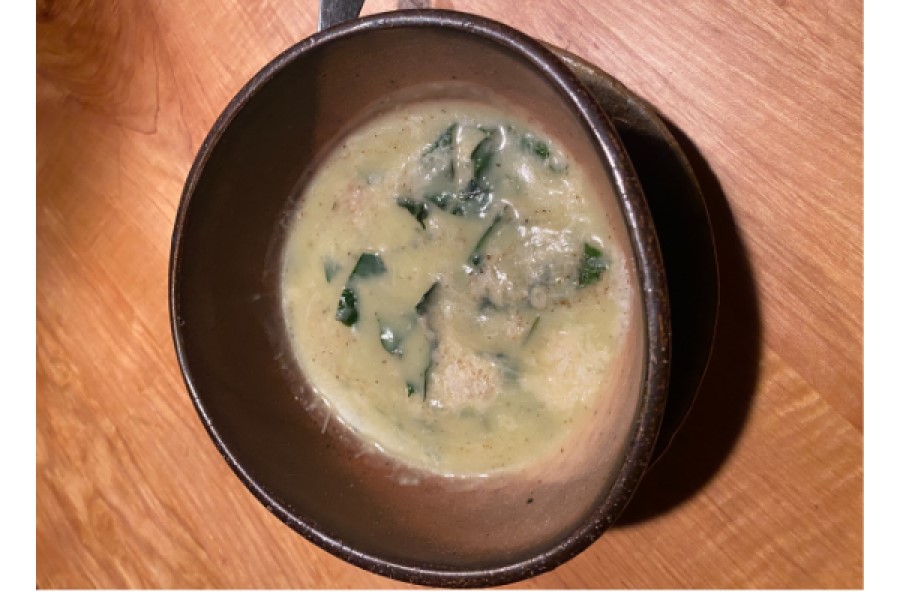 There's such an abundance of potatoes at the market these days and also beautiful kales. I love making potato soup and adding sauteed kale to it at the end, after I've pureed the soup. I enjoy the kale somewhat al dente in the soup rather than limp.
Yield: about four servings
2 tablespoons butter or olive oil
3 medium potatoes of any kind, peeled and cut into chunks
1 medium onion, sliced into rings
3-4 cloves of garlic, minced
4 cups chicken, beef, or vegetable stock
¾ – 1 cup of milk or half and half
½ bunch of kale (I like Lacinato, also called dinosaur kale)
Put the butter or olive oil in a deep pot over medium heat. When it's hot, add the potatoes and onions and sprinkle with salt and pepper and stir until the potatoes and onions are soft, for about five minutes.
Add the stock, bring it to a simmer, and cook until all the vegetables are tender, about twenty minutes. Let it cool and then puree with an immersion blender or in a blender. Then add the milk or half and half.
Now for the kale. Remove the toughest part of the stems and then tear the leaves into whatever size pieces desired. In a cast iron skillet, heat a couple of tablespoons of olive oil and briefly sautéd the kale. Add to the soup and eat! I like topping my soup with freshly grated Parmesan.
This locally inspired recipe is brought to you by Pam Walker. Pam is an avid home cook, writer, and local farm and food activist who is also a board member of the Santa Fe Farmers' Market Institute. Thank you, Pam, for helping inspire us to use locally sourced ingredients!