Pasta With Eggplant, Pine Nuts, and Romano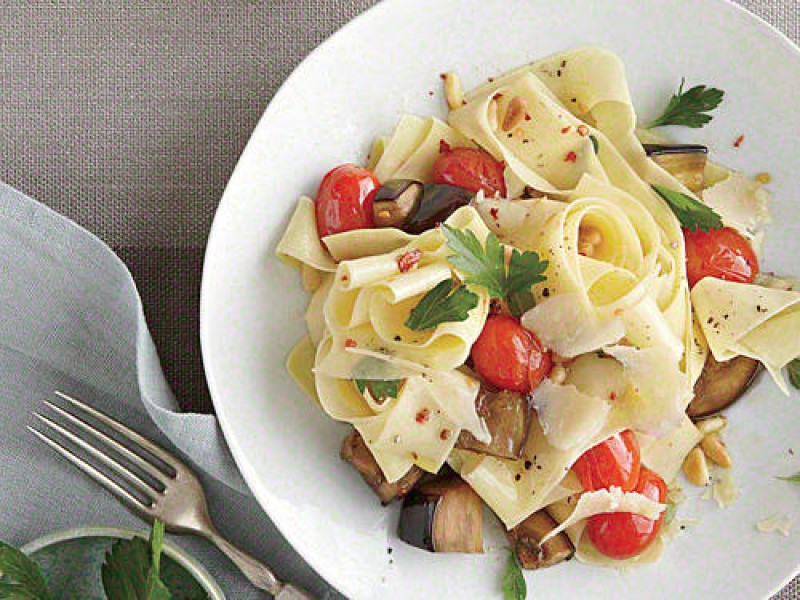 Like okra and other heat-loving food crops, eggplant production will soon taper off, but for now, there are a number of eggplant varieties in interesting shapes and sizes and colors in the market.
One of my favorite quick-and-simple ways to prepare eggplant is to cut it into small, but not too small, chunks, sautee it in olive oil and garlic, add a small amount of diced tomatoes, and then, at the end, toss in toasted pine nuts and season with salt, black pepper, crushed red pepper, and fresh oregano. I like it with or without pasta, and just before eating it, I sometimes top it with a sprinkling of freshly grated Romano..
I can no longer locate the recipe that put me onto this dish years ago, but I did find a similar one online by Ivy Manning from Cooking Light.
1 (8.8-ounce) package uncooked pappardelle (wide ribbon pasta)
3 tablespoons olive oil, divided
5 large garlic cloves, crushed
1 pound eggplant, cut into 1-inch pieces
1 tablespoon chopped fresh oregano
1 (10-ounce) container grape tomatoes
1/2 teaspoon salt
1/4 teaspoon freshly ground black pepper
1/4 teaspoon crushed red pepper
2 ounces fresh pecorino Romano cheese, shaved (about 1/2 cup)
1/3 cup pine nuts, toasted
1/4 cup chopped fresh flat-leaf parsley
This locally inspired recipe is brought to you by Pam Walker. Pam is an avid home cook, writer, and local farm and food activist who is also a board member of the Santa Fe Farmers' Market Institute. Thank you, Pam, for helping inspire us to use locally sourced ingredients!