Pan-Seared Asparagus Salad with Frisee and Fried Egg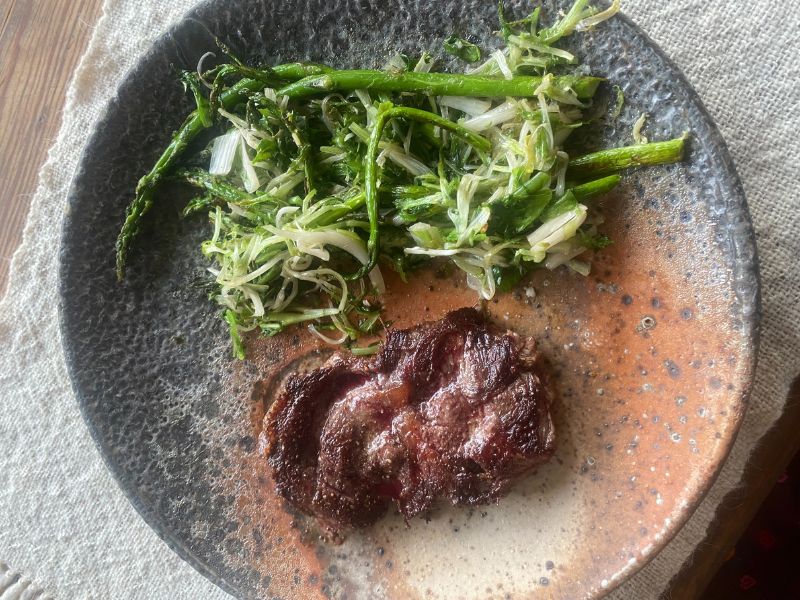 This recipe, from Melissa Clark for the New York Times, combines two of my favorite things: frisee and asparagus. While asparagus is all but gone from the market just now, frisees and radicchios are increasingly abundant, mainly from Ground Stone Farm and Vagabond Farmers. Clark's lemon – garlic vinaigrette with a bit of minced anchovy matches the robust flavors of both the frisee and asparagus with a robustness of its own.
I omitted the egg and instead ate the frisee and asparagus with a flatiron steak from Trilogy Beef, which I grilled stovetop in a cast iron skillet for a total of five to six minutes. And to make a meal just for myself, I halved the quantities of asparagus and frisee. It's a delicious meal, and a bonus is that it takes very little time to put together.
Yield: 2 servings
1 small garlic clove, finely chopped

Salt
¾

t

easpoon finely chopped anchovy

2 teaspoons lemon juice
6

tablespoons extra virgin olive oil

1

pound asparagus, trimmed and cut into 1½-inch pieces

3

cups packed torn

frisée

lettuce

2

large eggs

Black pepper
Mash the garlic and a pinch of salt into a paste with the side of a knife. Mix it in a small bowl with the anchovy, lemon juice and 2 tablespoons oil.

Place a large skillet over medium-high heat for 20 seconds. Add 3 tablespoons oil. When it shimmers, add the asparagus. Toss occasionally until golden brown and almost tender, 2 to 3 minutes. Add a pinch of salt and cook until tender, 1 to 2 minutes longer. Transfer to a large bowl; add the

frisée

and the garlic-anchovy dressing and toss gently.

Return skillet to medium heat and add the remaining 1 tablespoon oil. Crack in the eggs; season lightly with salt and pepper. Cook until the eggs are just set, about 3 minutes.
Divide the salad between two serving plates. Top each with an egg.
This locally inspired recipe is brought to you by Pam Walker. Pam is an avid home cook, writer, and local farm and food activist who is also a board member of the Santa Fe Farmers' Market Institute. Thank you, Pam, for helping inspire us to use locally sourced ingredients!