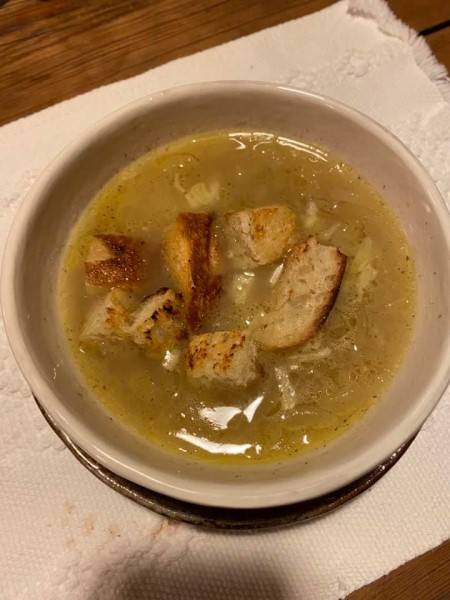 Cold weather sometimes calls for a good onion soup. I like Mark Bittman's recipe in How To Cook Everything, and almost always use it, but with modifications. To simplify preparation, I use a cast iron Dutch oven and prepare the soup entirely on the stovetop, not in the oven as Bittman does. For the stock, I also use a cast iron Dutch oven.
I also follow him in making my own beef stock, and I include the stock recipe following the soup recipe. But you can purchase stock if you don't want to make it. And although Bittman considers croutons and cheese optional, I like them in my soup. I make my croutons with a European farmhouse style bread and olive oil in a cast iron skillet, tossing and toasting them on the stovetop, sometimes with a couple of cloves of minced garlic. The cheese I prefer is Gruyere or Emmental.
4 tablespoons (1/2 stick) butter
4 large onions, thinly sliced (about 6 cups)
5 cups beef, chicken, or vegetable stock, or water (see below for Beef Stock recipe)
2 or 3 sprigs fresh thyme or a pinch dried thyme
2 or 3 sprigs fresh parsley
1 bay leaf
Salt and freshly ground black pepper
2 tablespoons Cognac or other brandy (optional)
croutons (optional)
1 cup freshly grated Parmesan, Gruyere, or Emmental cheese (optional)
 Put the butter in a large, deep pot over medium heat. When melted, add the onions and cook, stirring occasionally, until very soft and beginning to brown, 30 to 45 minutes. Adjust the heat so they do not brown too fast but slowly turn into a melting mass. Don't rush.
Heat the oven to 400 degrees F if you're using the croutons and cheese. Add the stock, raise the heat to medium-high, and bring just about to a boil. Lower the heat so the mixture sends up a few bubbles at a time. Add the herbs, some salt and pepper, and the Cognac and cook for 15 minutes. Fish out the bay leaf and herb sprigs. (At this point, you may refrigerate the soup, covered, for up to 2 days; reheat before proceedings.)
If you're using the croutons and cheese, put a some croutons and cheese in each of 4 ovenproof bowls. Add a portion of soup and top with cheese. Put the bowls in a roasting pan or on a sturdy cookie sheet and bake for 5 to 10 minutes, just long enough to melt the cheese. Serve immediately.
3 to 4 pounds meaty beef bones, like shank, shin, tail, or short ribs
2 medium onions, chopped
2 medium carrots, chopped
2 celery stalks, chopped
1 bay leaf
At least 10 sprigs fresh parsley (optional)
1 teaspoon salt, plus more to taste
3 cloves
10 peppercorns
Rinse the bones well under cold running water, then transfer to a large stockpot and att the remaining ingredients. Add about 16 cups water, enough to cover by a couple of inches.
Bring just about to a toil, then partially cover and adjust the heat so the mixture sends up a few bubbles at a time. Cook, skimming off any form that accumulates at the top, until the meat falls from the bones and the bones separate from one another, 2 to 3 hours.
Cool slightly, then strain, pressing on the vegetables and meat to extract as much juice as possible. Taste and add salt if necessary. Use immediately or refrigerate (skim off any hardened fat from the surface) and use within 4 or 5 days or freeze for up to 3 months.
This locally inspired recipe is brought to you by Pam Walker. Pam is an avid home cook, writer, and local farm and food activist who is also a board member of the Santa Fe Farmers' Market Institute. Thank you, Pam, for helping inspire us to use locally sourced ingredients!