Linda Eckhardt's Country Biscuits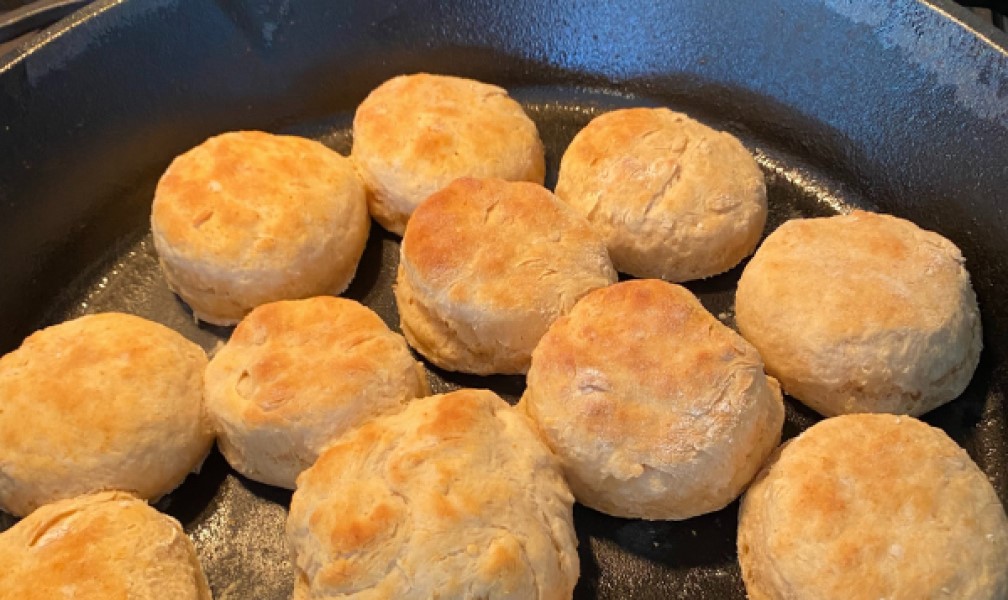 With luck and lard, I recently made the best biscuits ever in my life. My mainstay recipe is from The Only Texas Cookbook by Linda West Eckhardt (Texas Monthly Press, 1981). This time, I made some new adjustments in addition to my standard one of omitting sugar. I used lard I'd frozen from a farmers' market instead of shortening. And instead of two cups of white flour, I used one cup of white flour and one cup of whole wheat pastry flour. This recipe yields about a dozen medium biscuits.
2 c flour
1/4 t salt
1 t sugar
1/4 t baking soda
2 tbsp baking powder
5 tbsp shortening
1 c buttermilk
Preheat oven to 450. Sift together dry ingredients, then cut in shortening w/a pastry blender. If you want to do it the real old fashioned way, mix it with your hands. This is a good sit-down job. You can even read while you're doing it. Make a well in the middle of the flour mixture and pour in buttermilk. With a fork, mix very lightly, just until the flour is thoroughly moistened.
Turn out on a floured board and knead just 2 or 3 times. Pat out dough until it's about as thick as an ear of a prickly pear cactus (1/2 inch), then cut with an inverted drinking glass on a biscuit cutter. At this point you can freeze what you don't want to bake for the meal. Then just pull them out of the freezer 30 min before baking time. Bake in preheated oven 12-15 min on a pan well greased with butter or fresh bacon grease.
This locally inspired recipe is brought to you by Pam Walker. Pam is an avid home cook, writer, and local farm and food activist who is also a board member of the Santa Fe Farmers' Market Institute. Thank you, Pam, for helping inspire us to use locally sourced ingredients!