Julia Child's Scalloped Potatoes Baked in Cream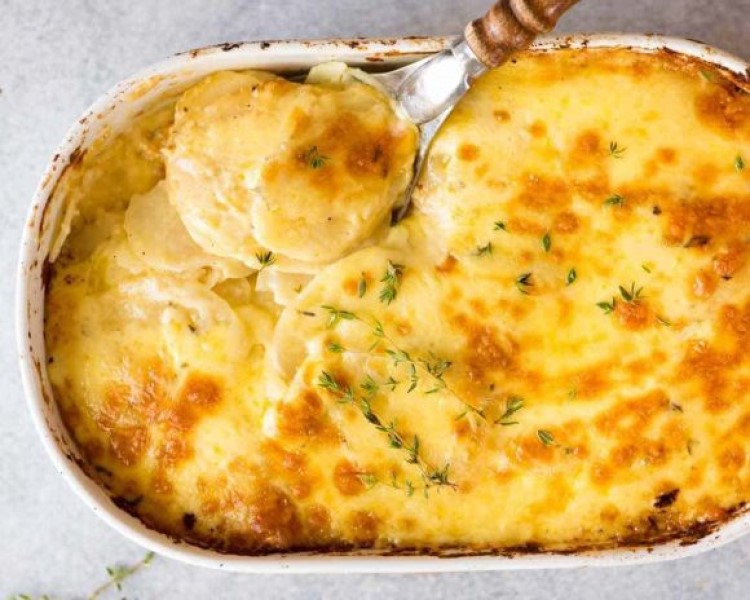 One of my favorite versions of scalloped potatoes is Julia Child's in her beautiful book The Way to Cook. I served this dish recently with braised lamb shanks.
1 ½ to 2 cups each heavy cream and half-and-half cream
1 large clove of garlic, pureed
Salt and freshly ground white pepper
1 imported bay leaf
2 to 2 ½ pounds "boiling" potatoes (6 to 7 cups, sliced)
3 to 4 Tbs grated Swiss cheese
Special Equipment Suggested
A heavy-bottomed 3-quart stainless or enameled saucepan with cover
A buttered shallow baking and serving dish (or individual serving dishes) for the final baking
Pour 1 ½ cups each of heavy and half-and-half cream into the saucepan. Stir in the garlic, ½ teaspoon of salt, several grinds of pepper, and the bay leaf.
Slice the potatoes evenly 1/8 inch thick, dropping them as sliced into the cream. When all are in, add more cream if necessary, to cover the potatoes by ½ inc.
Preliminary cooking – 1 to ½ hours.
Bring to below the simmer and maintain at just below the simmer for an hour or more, until the potatoes are perfectly tender. Check frequently to be sure they are not bubbling, since that can cause the cream to curdle; check also that the potatoes are not sticking or scorching in the bottom of the pan.
Into the baking dish. When tender, correct seasoning and turn them into the buttered baking and serving dish; spread on the grated cheese.
*Ahead of time note: May be prepared to this point several hours in advance. Cover when cool, and refrigerate.
Final baking – 20 minutes at 425 degrees F.
About 20 minutes before serving, set in the upper middle level of the preheated oven and bake until bubbling hot and lightly browned on top: do not overcook or the potatoes will be dry rather than lush and creamy.
This locally inspired recipe is brought to you by Pam Walker. Pam is an avid home cook, writer, and local farm and food activist who is also a board member of the Santa Fe Farmers' Market Institute. Thank you, Pam, for helping inspire us to use locally sourced ingredients!