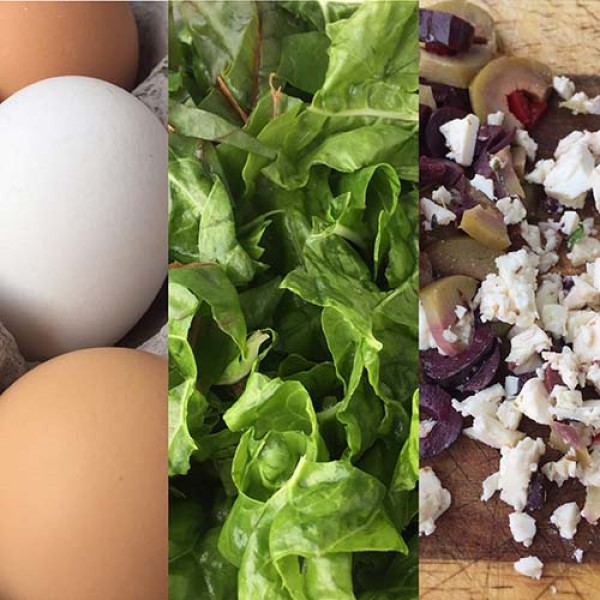 This recipe is courtesy of a September, 2016 Market Fresh Cooking with Mark Oppenheimer.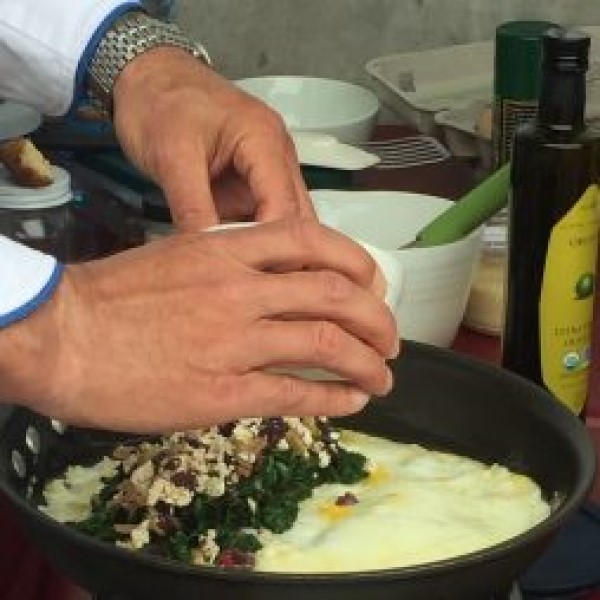 6-8 ex-large/Jumbo Eggs. Separate egg whites from yolks*
3-4 garlic cloves chopped then sautéed (add more or less to taste)
1/2 lb cleaned and chopped spinach
3 tbsp chopped assorted olives (or any blend of green and kalamata)
1/4 lb crumbled French feta or any feta you like
1 large beautiful ripe tomato
butter
olive oil
4 slices of your favorite country bread, buttered and toasted (optional)
1 large frying pan for Omelette
1 medium frying pan for sautéing spinach and garlic
Separate the egg whites from the yolks set aside the whites, use the yolks for whatever you like. Whisk the whites a bit, just to add a touch of air.
Boil a small pot of salted water, Take the tomato and score a small 'x' or cross in bottom, place it carefully in boiling water for 1-2 minutes put aside to cool. After it cools, either peel it and seed it, (by slowly inserting your finger in the cavities with seeds releasing the seeds, discarding them), then dice up the tomato flesh. set aside.
Heat a large frying pan with the butter and olive oil, enough that it easily covers the bottom.
Add the garlic and sauté until almost golden, add the spinach. and cook about 1-2 minutes until just wilted then turn off the fire. Drain any water.
Heat up the other larger pan, when the large pan is hot enough, pour in the egg whites and move them around in the pan to completely cover the bottom and help them set*. After they set, using tongs place the cooked spinach evenly along the bottom third of the cooking egg white from edge to edge.
Sprinkle the chopped olives and feta along top of the spinach
The Tomato, add chopped or carefully squeeze it all over the spinach mixture
Fold the top end of the egg whites over the spinach olive feta mixture and slide on to a large plate.
Toasted The Country Bread, butter if you so desire. Share with a friend or eat by yourself.
Enjoy with a Rosé or Cote De Rhone.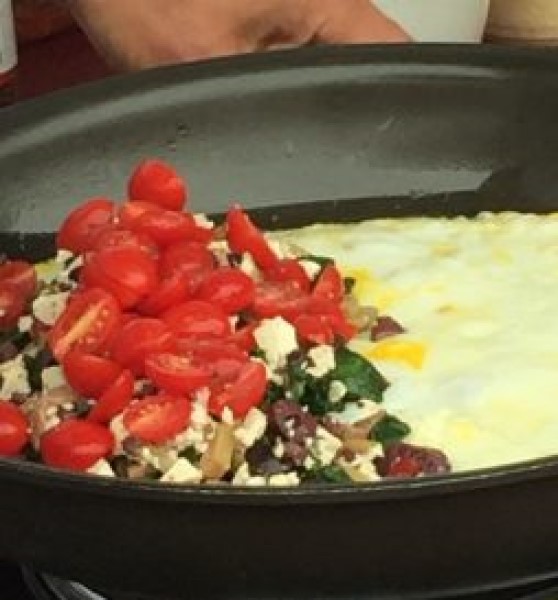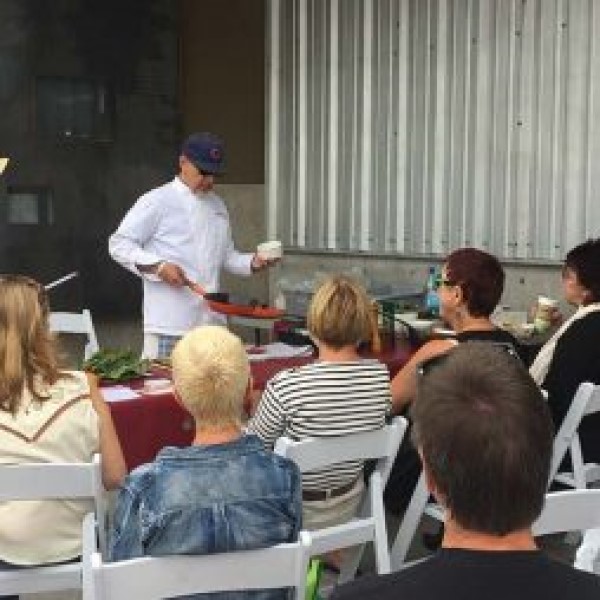 This locally inspired recipe is brought to you by Pam Walker. Pam is an avid home cook, writer, and local farm and food activist who is also a board member of the Santa Fe Farmers' Market Institute. Thank you, Pam, for helping inspire us to use locally sourced ingredients!