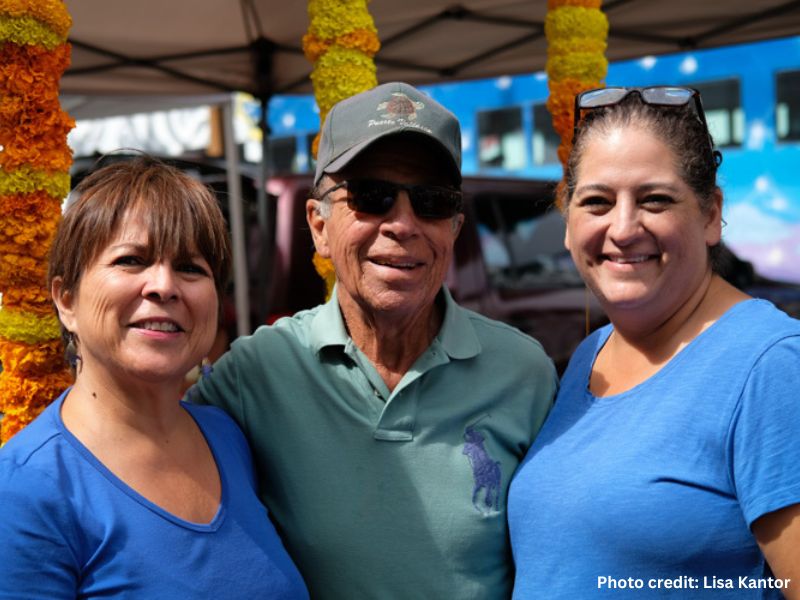 Channeling limited water resources for crop irrigation is a challenge for New Mexican farmers. However, there is no scarcity of talent at Monte Vista Farm. Ten years ago the Market was fortunate to tap into that reservoir for a dynamic new Board Member, Jennifer Fresquez. Five years ago, the Institute returned to the same pool and recruited Brenda Fresquez for its Board. Today we honor their dedication and contributions.
For Jennifer and Brenda Fresquez, farming is in their blood. Española Valley is known for its agricultural traditions, and nowhere is that more evident than in the Fresquez family tree.
Jennifer's grandmother took care of the garden at home in Española, while her grandfather sought work in the mines in Colorado to support the family. "There were ten children; she grew a lot of her own food to feed her family and support everybody else. They were not well-off, but she shared with poorer neighborhood families." Brenda's grandfather had a big orchard, and each year the family gathered to pick the apples – it was a true family affair. She recalled that "the whole street was comprised of orchard after orchard, so her grandfather would clean and box his apples and drive to Colorado to sell them where the market was not saturated."
Both are deeply rooted in Monte Vista Farm, the Farmer All Star award-winning farm owned by Jennifer's parents David and Loretta Fresquez. Started as a family garden with a specialty in growing tomatoes, the farm expanded exponentially when her parents retired from Los Alamos National Lab (LANL). Now the farm grows a wide array of produce, including traditional blue corn. In talking with Chef Nestor Periera of Café Pasquale's (please see Chef Shout Out below), he remarked on the vivid center of their watermelon radishes and the red hue of the tomatoes. David Fresquez credits the potassium in his farm's soil for "bringing out the colors."
Both Brenda and Jennifer enjoy cooking. Brenda, who prides herself on her extensive cookbook collection and has studied cooking locally and on trips to Italy, reports with pride that her hard-to-please grandmother says that "her pecan-crusted salmon with dill sauce is the best she has ever tasted." Jennifer studied at The Culinary Institute of America, the renowned training program for chefs in Hyde Park, New York. For ten years she pursued her vocation as a chef at both Goucher College and Duke University. Turns as a personal chef, and as part of the nationally-recognized Bon Appétit Management Company and Whole Foods followed. While Jennifer was on the East Coast, Brenda filled in at the Monte Vista Farm and the Santa Fe Farmers' Market. She describes her farm involvement as her after-work therapy from her positions at LANL in auditing, procurement, and contract management, and later from her position on the Legislative Finance Committee.
Pitching in at the Farm is not the only volunteer work that Brenda has participated in. She speaks of informal "lending a hand and of tutoring youngsters." Her more structured volunteering efforts with Santa Fe's International Folk Art Market, the Let's Read Program, National Hispanic Cultural Center, and the Cystic Fibrosis Foundation are well respected.
This month we salute Brenda's contribution to the nonprofit Santa Fe Farmers' Market Institute Board as she rotates off after five years of service. Institute Board Treasurer Kyle Burns recruited Brenda for her extensive financial skills and knowledge of the legislative process, as well as her hands-on experience with organic farming. Kyle praised Brenda's multi-faceted contributions, "Brenda's passion for farming through her family's history and experience working with numbers made her a perfect contributor to the Institute Board. She was always willing to challenge and offer her thoughts when a different perspective was needed on an issue. You would always see Brenda with a smile while working at her family's booth at the market while bringing a seriousness to the board room." In return, Brenda is "gratified to have had the opportunity to contribute to the Institute's increased financial stability and growth during her tenure."
Jennifer continues on as the President of the Santa Fe Farmers' Market Board, a position she has held for three years. Her goal is to use her skills in marketing and business to "create the best possible market and keep everyone in business. The more we support each other, the more beneficial it is for everyone – a rising tide lifts all boats." She expresses gratitude to the customers stating that "anyone that shops at the Market is making a conscious decision to support the local economy, and to invest in the risk with the farmers. It is a very meaningful sense of trust expressed through their CSA shares and Santa Fe Farmers' Market purchases."
On behalf of the Santa Fe Farmers' Market Institute we express our appreciation to Brenda and Jennifer Fresquez for all that they have contributed to help sustain a profitable, locally-based agricultural community.