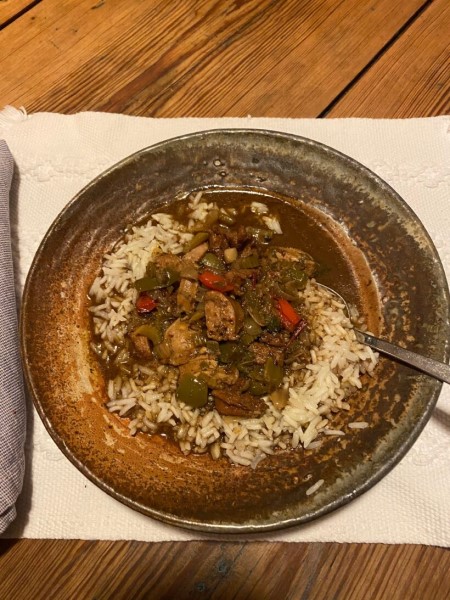 My favorite type of gumbo is seafood gumbo. Any combination of Gulf of Mexico ingredients will do – shrimp, crab, oysters. But Santa Fe, unlike my hometown of Houston, doesn't abound in fresh catch from the gulf. So when I craved gumbo recently, I made one without seafood, adapted from a duck and Andouille gumbo made at Emmerline, a New Orleans restaurant. (This recipe was included in a January 9, 2019, article about gumbo in the New York Times.)
I didn't have Andouille on hand, though I've often bought some excellent links from Red Mesa Meats. What I did have on hand was spicy Italian sausage from Red Mesa and leftover, frozen duck from Lotus Farms. I used a greater proportion of sausage to duck than the Emmerline recipe because I had more sausage then duck. And, after all, gumbo is a stew with infinite variations. And I had a roux on hand, one I made a few weeks before and kept in the fridge.
Missing gulf coast foods and traditions, I decided to put my gumbo together for dinner on Fat Tuesday. Though it didn't hit the same spot as a seafood gumbo, it turned out fine. The Emmerline recipe recommends serving gumbo over either rice or potato salad. I served mine over rice. Gumbo over potato salad? I've never seen it! But as I said, the variations are infinite.
1 cup canola or peanut oil
1 cup all-purpose flour
1 white onion, diced
5 c celery stalks, diced
1 red bell pepper, diced
1 green bell pepper, diced
2 links Andouille sausage or other smoked sausage (about ½ pound), cut into half inch half moons
3 quarts duck or chicken stock
2 tablespoons dried thyme
2 tablespoons dried oregano
3 dried bay leaves
2 garlic cloves, minced
6 cups pulled roasted duck meat, skin discarded and meat roughly chopped (from 1 to 2 roast ducks
Salt, to taste
Hot sauce, to taste
Cooked rice or potato salad, for serving
Prepare the roux: In a large Dutch oven, heat the oil over medium-high. (A large stockpot works, but a Dutch oven is ideally shaped for whisking a roux.) Slowly shake the flour over the oil with one hand while whisking with the other hand. Continue to whisk until the roux darkens to a glossy, dark red-brown, 15 to 20 minutes.
Reduce the heat to medium and stir the onion, celery and bell peppers into the roux to prevent it from burning, about 3 minutes. Stir in the sauage and cook until coasted, a few more monutes.
Gradually add the stock, stirring constantly as you add the liquid. Add the thyme, oregano, bay leaves and garlic and simmer over medium-low, stirring and skimming every 20 minutes, until the flavors have melded, about 2 hours. For a thinner gumbo, add water, as desired (up to 2 cups).
Stir in the duck meat, just before serving and cook until warmed, 3 to 5 minutes. (And extended cook time would turn the meat mushy.) Add the salt and hot sauce to taste. Serve over rice or potato salad.
This locally inspired recipe is brought to you by Pam Walker. Pam is an avid home cook, writer, and local farm and food activist who is also a board member of the Santa Fe Farmers' Market Institute. Thank you, Pam, for helping inspire us to use locally sourced ingredients!