Crispy Smashed Root Vegetables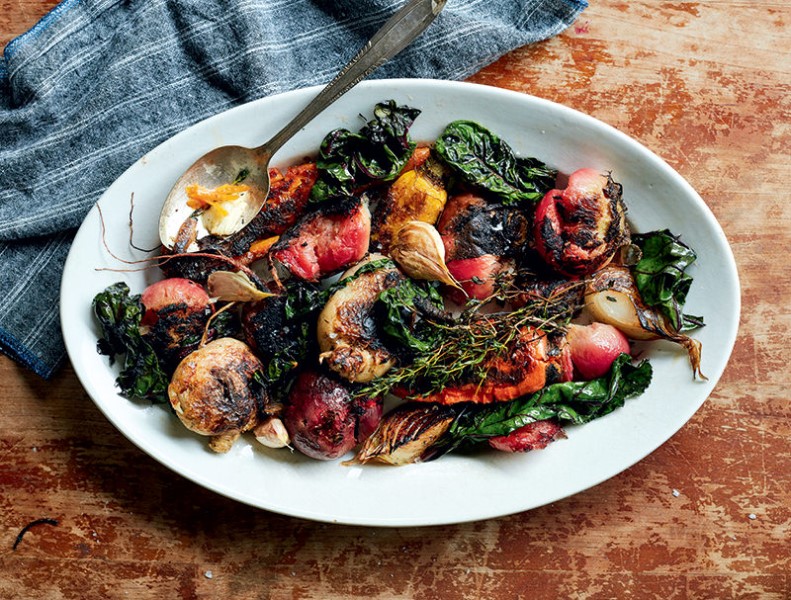 Image courtesy of Modern Farmer.
This recipe is from Chris Lanier at Modern Farmer.
"I don't peel turnips, beets, and carrots before cooking them," says Lanier. "When the skins and stem ends get a little burnt, they bring earthy dimension to any dish."
4 small turnips (about 1 pound), scrubbed
4 small beets (about 1 pound), scrubbed
8 small carrots (about ¾ pound), scrubbed
¾ cup cup olive oil
Coarse salt
Freshly ground black pepper
1 small onion quartered
4 cloves garlic (not peeled), crushed
1 small bunch Swiss chard (about ½ pound), stems cut into 1-inch pieces, leaves cut into 1-inch strips
3 sprigs fresh thyme
3 tbsp unsalted butter
2 tbsp maple syrup
In a large, heavy pot over medium-high heat, cover turnips, beets, and carrots with 2 inches water and bring to a boil.
Reduce heat and simmer until vegetables are fork-tender, checking frequently after 15 minutes, as the vegetables will likely be ready at different times.
Transfer vegetables to a paper towel-lined baking sheet and let cool.
Preheat oven to 200°F. Meanwhile, using the bottom of a glass or small pan, gently smash vegetables.
Heat oil in a 12-inch cast-iron skillet over medium heat. Working in batches, fry the vegetables, flipping once, until brown and crisp, 5 to 7 minutes.
Transfer to paper towel-lined baking sheet and season with salt and pepper; keep warm in oven while remaining vegetables cook.
Carefully drain off all but 2 tablespoons oil and return pan to medium heat. Add onion, garlic, and Swiss chard stems and cook, stirring occasionally, until onions and garlic are light golden brown, 2 to 3 minutes.
Add Swiss chard leaves and thyme and cook, stirring frequently, until leaves are wilted, about 3 minutes.
Season to taste with salt and pepper, then push greens mixture to one side of pan. Add butter to skillet; once it heats up and begins to foam, spoon it over greens mixture, tossing to combine.
Arrange reserved root vegetables on a serving platter. Top with sautéed greens and spoon any remaining butter over top. Drizzle with maple syrup and serve immediately.
This locally inspired recipe is brought to you by Pam Walker. Pam is an avid home cook, writer, and local farm and food activist who is also a board member of the Santa Fe Farmers' Market Institute. Thank you, Pam, for helping inspire us to use locally sourced ingredients!