Chalupas from Fresh Corn Tortillas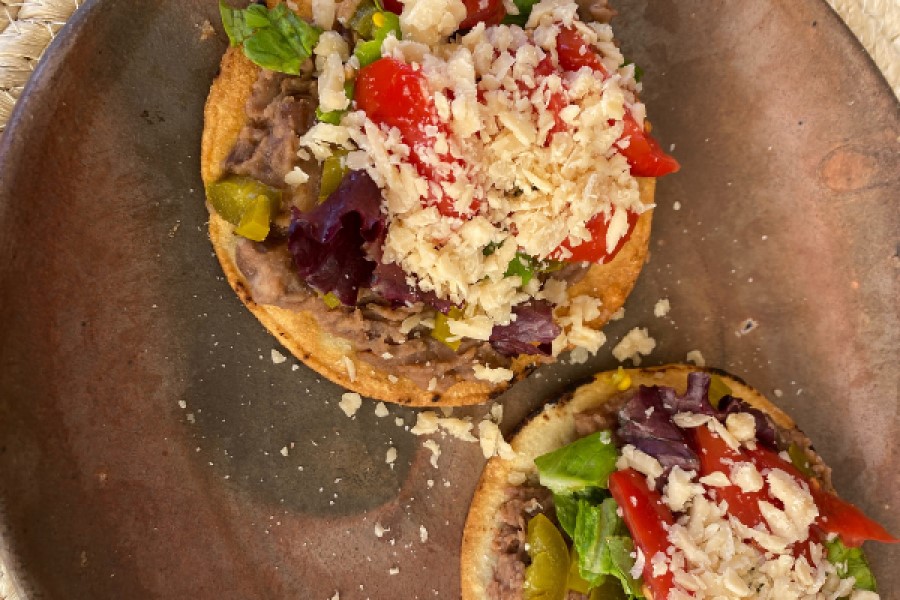 Trujillo Farms makes the best tortillas. One of my favorite ways to use the corn tortillas is to fry a couple for chalupas. The flavor of the masa comes through nicely.
As for the other ingredients, I almost always have beans on hand, freezing leftovers every time I cook up a pot of them. And I also keep lettuce or cabbage on hand, and tomatoes, jalapenos, cheddar, and cilantro.
To prepare the chalupas, I first heat the beans in a cast iron skillet with a little olive oil, mashing them with a fork if I want them smooth. As they heat, I tear the lettuce, chop the tomatoes, cilantro and jalapenos, and shred the cheese. Sometimes I also want avocado slices, minced scallions, and maybe a touch of sour cream.
To fry the chalupas, I heat a shallow level of grapeseed oil in a cast iron skillet over medium-high to high heat. When the oil almost shimmers and feels hot to my hovering hand, I add the tortillas and fry them briefly on each side to make them crisp. Then I remove them from the skillet and place them on paper towels to drain.
Next, I spread the beans on the crisp tortillas and pile all the other ingredients on top. I like eating them right away.
This locally inspired recipe is brought to you by Pam Walker. Pam is an avid home cook, writer, and local farm and food activist who is also a board member of the Santa Fe Farmers' Market Institute. Thank you, Pam, for helping inspire us to use locally sourced ingredients!