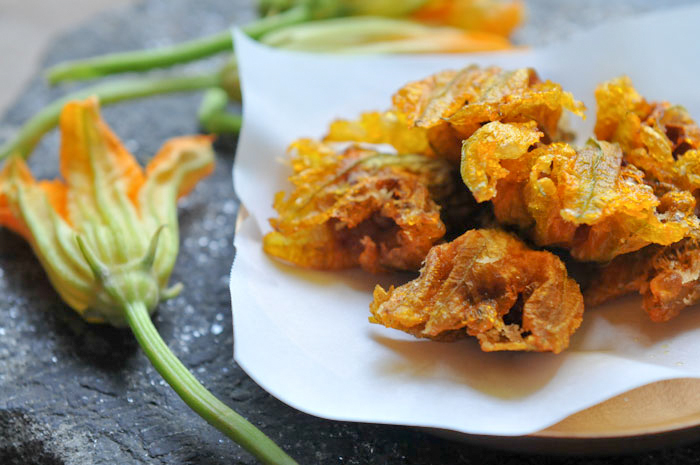 Guest writer: Mary Eloisa,LPCC, NC from Eating With Reverence
This is truly my favorite time of year to go to the Farmers' Market. I love seeing the incredible diversity of the bounty of New Mexico. I love supporting our local farmers and most of all, I love the quality and freshness of the food. Here in Santa Fe, we are fortunate to have one of the most beautiful, vibrant markets in the entire country.
As I wandered through the Market on Saturday, I kept seeing bright displays of beautiful saffron colored squash blossoms. I had heard of stuffed squash blossoms, but I had never eaten them or attempted to make them. So, I thought I would give it a whirl. I followed this recipe and they were a little labor intensive because I had never done this before. I must say, they came out absolutely gorgeous and really scrumptious. Well worth the effort. I will definitely be making these again, probably for company because they are very impressive. Sorry, I don't have a nutritional breakdown for you, but what could be bad with all these fresh, healthy ingredients. As Chef John (the creator of this recipe) said they are "simple, light and crisp."
Fried Stuffed Squash Blossoms
12 fresh zucchini blossoms
3/4 cup soft goat cheese at room temperature
1 egg yolk
1/4 cup shredded Gruyere cheese
1 pinch freshly ground black pepper, or to taste
1 pinch cayenne pepper
Batter:
1 cup self-rising flour
1/2 cup cornstarch
1/4 cup ice-cold water, or as needed
vegetable oil for frying (I used a very shallow mixture of oil with a bit of butter)
1 teaspoon all-purpose flour, or as neededPreparation:
Bring a pot of lightly salted water to a boil. Prepare a large bowl of ice-cold water. Drop squash blossoms into the boiling water until slightly wilted, 30 to 45 seconds; transfer immediately into the cold water to chill. Remove to paper towels to drain.
Mix goat cheese, egg yolk, Gruyere cheese, black pepper, and cayenne pepper together in a bowl; stir until smooth. Spoon filling into a heavy, resealable 1-quart plastic bag, squeeze out the air, and seal the bag. Cut a small corner off the bag.
Gently insert the cut corner of the bag all the way to the bottom of the open end of a blossom and pipe about 1 tablespoon of filling inside. Pick up petals and drape them up over the filling, covering filling completely. Fold any excess petals over the top of the filled blossom to keep them out of the way. Refrigerate filled squash blossoms until cheese is set and firm, at least 30 minutes.
Combine self-rising flour and cornstarch in a mixing bowl; whisk in ice-cold water, a little at a time, until batter is smooth and has the thickness of pancake batter.
Pour vegetable oil to a depth of 1 inch into a heavy skillet (such as a cast iron pan) and place over medium heat. Heat oil until a thermometer placed into the oil, not touching the bottom, reads 350 degrees F (175 degrees C). A drop of batter carefully dripped into the oil should sizzle immediately.
Remove squash blossoms from refrigerator and dust lightly with all-purpose flour on all sides. Shake off excess flour and dip blossoms in batter. Let excess batter drip off.
Gently lay coated squash blossoms in the hot oil on their sides; cook about 6 at a time until pale golden brown, 1 minute on the first side and 30 seconds to 1 minute on the remaining sides. Let cool slightly before serving.