JOIN US FOR 2.5 DAYS OF LAND HEALTH EDUCATION AT THE BEAUTIFUL RED CANYON RESERVE NEAR MAGDALENA, NM!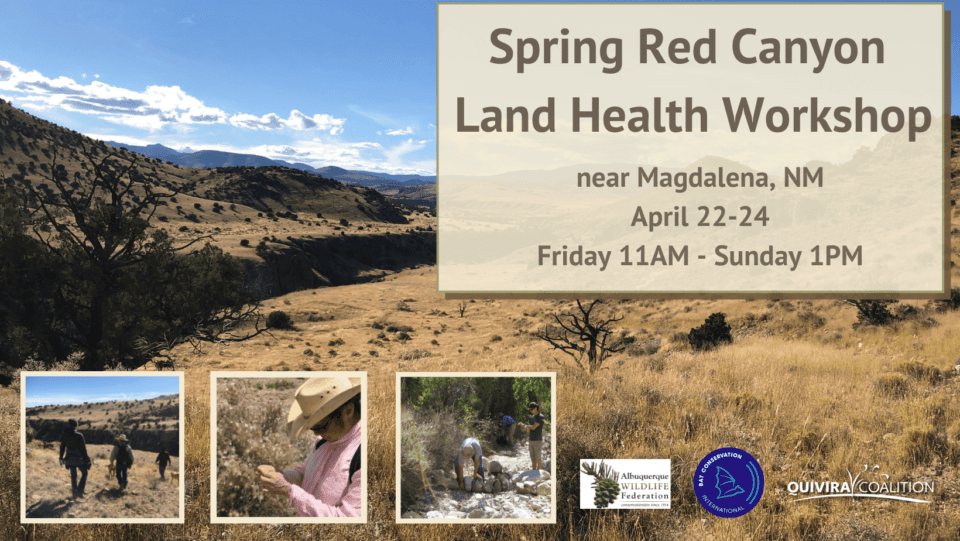 We'll learn about maintaining water for wildlife and rangeland health, building ramps for stock-tanks, how to monitor bats, bullseye monitoring for ecosystem health, local geology, and how to recognize erosion and build erosion control structures. This will be a weekend full of experiential learning, fun, good food, and time to explore the beautiful land.
This workshop is for anyone interested in land management, with a focus on rangeland health, monitoring and management. Camping available Thursday, Friday and Saturday night. Breakfasts are provided. Dinner main dishes are provided – please bring a side dish. Please bring your own lunches.
Abbreviated agenda:
Friday, 11AM – 8:30PM
Welcome and Introductions
Groundwater presentation with Kristin Pearthree (NM Bureau of Geology & Mineral Resources & NM Institute of Mining & Technology)
Lunch
Water for Wildlife with Dan Taylor (Bat Conservation International)
Demo on making stocktanks safer
Walkabout Red Canyon, featuring erosion issues and structures, and road maintenance
Dinner
Bat monitoring with Dan Taylor
Saturday, 7:30AM – 7:30PM
Breakfast
Welcome and introductions for newcomers
Build erosion control structures and learn about erosion (Albuquerque Wildlife Federation leads work)
Lunch
Hike or more erosion work
Geology presentation (Geologists Jerry Kendall & Jan Phillips)
Dinner
Sunday, 7:30AM – 1:00PM
Breakfast
Bullseye Rangeland Monitoring (with Cullen Hallmark of the Red Canyon team)
Lunch
Farewell