DO YOU EDUCATE OR DO OUTREACH WITH THE PUBLIC OR WITH FARMERS AND RANCHERS? DO YOU WANT TO HELP THEM BUILD SOIL HEALTH?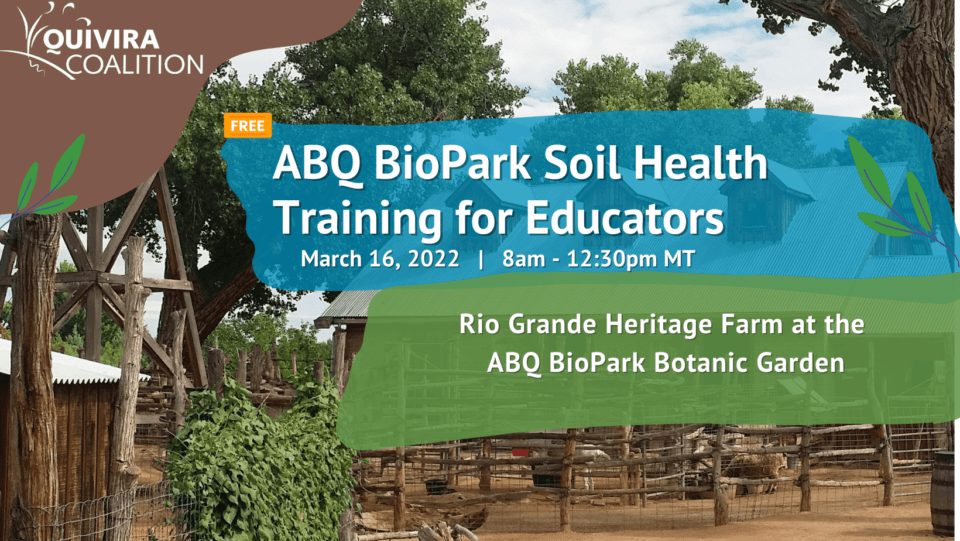 If so, this workshop will help you to facilitate engaging discussions and train people to do in-field soil tests to help farmers, ranchers, and the public to assess soil conditions and make management decisions that will move them towards healthy soils.
You will work with facilitators from Quivira Coalition, a non-profit education organization focusing on resilient working lands, to learn out to work with groups or with people one-on-one to help people understand how management can affect physical, chemical, and biological properties of soil. We will also help you identify resources such as the Healthy Soil Program Grants and NRCS funding that can help producers fund the changes that they want to make.
This workshop is free and hosted at the beautiful Heritage Farm in partnership with the New Mexico Association of Soil Water Conservation Districts and the Healthy Soil Working Group. We will be fully outdoors with restroom facilities (masks required indoors!) and chairs available.
Facilitated by Eva Stricker. Eva directs the Carbon Ranch Initiative that works to build soil health in working lands and has experience with science communication for the public.